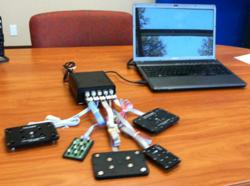 The t-Pod™ technology is a significant improvement over our current instrument technology.
Irvine, CA (PRWEB) June 11, 2013
Alpha Technics, an industry leader in the design, development, and manufacture of high accuracy temperature measurement systems, introduces the t-Pod™ Temperature Measurement system, a modular meter that can drastically increase the accuracy of temperature readings. When coupled with a high-accuracy probe, the Alpha Technics t-Pod™ Temperature Measurement system can provide a measurement accuracy of ±0.015°C over the calibrated range. Thermal validation, process control, and calibrations are just some of the ways the t-Pod™ system is being used today.
"The t-Pod™ technology is a significant improvement over our current instrument technology," says Lisa Marie Ryan, President of Alpha Technics Inc., "It provides customers with both faster response and greater accuracy for temperature verification of their laboratory equipment. In addition, the t-Pod™ technology is the right platform for our next generation products which include wireless data logging as well as real time wireless temperature reading."
The Alpha Technics' t-Pod™ provides simultaneous real time accurate temperature measurement, can display and record at up to 7 times per second, and is configurable to match the specific needs of companies in the medical, HVAC, general industrial, biotechnology and life science industries. The t-Pod™ is available in 5 up, 10 up, or even 20 up input versions. This flexibility coupled with the small form factor make the t-Pod™ measurement system easy to use in virtually any application.
The t-Pod™ system connects directly to the user's computer via USB cable. Supplied software provides temperature output as ".xls" format. Using the well-defined command set and data format, users can easily format reports or integrate measurements into product software. For mobile applications, the optional display unit allows the user to observe the readings at the remote site, and download the recorded data to a computer at a later time.
For more information visit: http://www.alphatechnics.com/t-pod-system/
About Alpha Technics
Alpha Technics is an industry leader in the design, development, and production of precision thermal temperature systems measurement solutions ranging from industrial NTC Thermistor Sensors to automated Test & Measurement Systems and Software. Alpha's product portfolio offers a complete line of thermal measurement solutions. For more information about Alpha Technics visit: http://www.alphatechnics.com