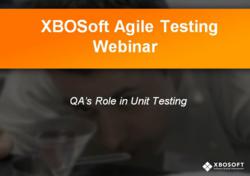 With agile development we find that many QA and testing teams are searching how to best fit in.
San Francico, CA (PRWEB) June 12, 2013
XBOSoft's agile webinar series is geared at development and QA managers and focuses on how companies can increase the effectiveness of their agile development and QA processes and ultimately increase the quality of their software. After the success of our webinar on agile testing with Jared Richardson and Phil Lew in March. XBOSoft continues its agile testing webinar series in June.
June 6 XBOSoft had a well-attended webinar with Mike Maheu on QA's role in unit testing. "Agile development creates the need for cross functional teams. I see a place for QA in unit testing. But it is not always easy to implement well." said Mike Maheu. The Q and A session of the webinar continues at the XBOSoft software quality blog. The webinar was designed to inform development and QA managers, whether operating in a waterfall or permutation of agile, how to best utilize QA in unit testing.
And at June 27 we are holding a webinar with Jim York from Foxhedge on Acceptance Test Driven Development. In this webinar Jim will discuss best practices in implementing acceptance test driven development. The webinar still has some open seats and those interested can register here.
"With many organizations implementing agile development, we find that a lot of the QA and testing teams are searching how to best fit in. That is the reason we are holding these webinars so people can hear from and talk to other testers with similar experiences and learn from best practices and lessons learned" says Jan Princen, managing director of XBOSoft.
The webinars are free of charge and designed as a starting point for discussion with other people involved in agile and agile testing specifically. Attendees are encouraged to participate via questions and comments during and after the sessions. The webinars are set up to share information on best practices and lessons learned.
Agile Testing Topics covered include:

Agile development trends
How to test 'agile'
How to implement unit testing
QA' Role in Unit testing
Acceptance test Driven Development
Agile traceability
Test data management
Automated regression testing
When do execute performance testing
Test tools
Agile testing mind set
About XBOSoft
XBOSoft is an international firm specializing in software quality assurance with branch offices in the USA and Europe. With a proven record of success working for Fortune 500 companies and specialized ISVs, XBOSoft has gained broad domain expertise with extended experience in finance and healthcare. Our commitment to software quality improvement is implemented through practical quality assurance processes combined with deep technical expertise.
For more information, visit http://www.xbosoft.com.