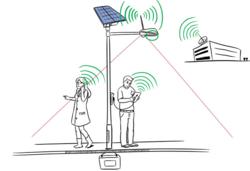 To meet the energy demand of all households worldwide, energy supplies must double by 2050. This is the most important finding of WEC's Energy Policy Scenarios to 2050.
– World Energy Council
Copenhagen, Denmark (PRWEB) June 11, 2013
Unlocking a sustainable future with technology
Shadows and Light is the first CO2 neutral streetlight solution that combines Wi-Fi connectivity, smart traffic control and video surveillance in a single low-cost product. "Unlike other lighting projects, Shadows and Light aims to maximize the benefits of both existing and new streetlights to better utilize these costly installations," said Hans Hesselholt Henne Hansen, co-founder of Shadows and Light. The solution will help communities not only reduce energy waste and save money, but also contribute to a safer society for people in developing areas.
By 2050, the world population is expected to be 9 billion people, up from 7 billion today. In the same period, global energy consumption could rise by as much as 55 percent due to population growth, urbanisation, and more new users of the Internet.
Danish design to support global innovation
The Shadows and Light system is purely a green product, with zero CO2 emission and without need for an external power source. "We have developed a working prototype of the complete Shadows and Light solution in Denmark, and are now ready for real-world pilot deployments," said Karsten Vandrup, co-founder of Shadows and Light. Shadows and Light plans to create a trial installation at one or more vocational schools in developing areas, which today have no streetlights and no cost-effective Internet connectivity. Based on these installations, we will develop the first manufacturing series of the product, and team up with local partners to deploy additional of Shadows and Light systems over the coming 12-18 months.
Our definition of green innovation in emerging markets is closely linked with three objectives: protecting the environment, boost the economy and support local communities. "In our view, there can be no lasting economic growth in emerging markets without environmental sustainability, without connected economies and without safe local communities," said Anja Hoffmann, co-founder of Shadows and Light. The energy savings that can be achieved by upgrading to green-tech solutions and equipment replacements drives Shadows and Light's mission. Beyond providing low-cost solutions in developing areas, free communication, video surveillance and smart traffic control could be game changing factors for driving sustainable economical growth in these areas.
Let's make the connected future green
By 2020, the number of things connected to the Internet worldwide is estimated to be over 50 billion. The Shadows and Light solution can help make this technological revolution a little more sustainable one streetlight at a time. With a global population of 9 billion people in 2050, it is more important than ever that we support green innovation as a catalyst for better living.
Shadows and Light is currently working on finding appropriate test areas and is seeking partners and/or investors.
For more information, visit http://shadowsandlight.org.