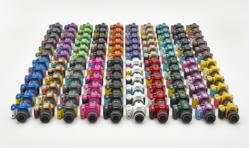 Denver, CO (PRWEB) June 12, 2013
PENTAX RICOH IMAGING AMERICAS CORPORATION today introduced the PENTAX K-50 DSLR featuring advanced functionality beyond its mid-level classification. Ideal for photographers looking to transcend traditional DSLR offerings, the PENTAX K-50 combines a uniquely advanced feature set with a consumer-friendly price tag and 120 color combinations to meet an important additional demand of the creative consumer: personal style.
Rivaling many cameras higher in class, the K-50 boasts a long list of advanced specifications not found in other mid-level DSLRs. Beginning with its 81 weather seals, the K-50 incorporates PENTAX's long-standing heritage of weather-resistant products making cameras that extend shooting environments to wet, rainy or snowy conditions. Building on this leading advantage, the K-50 features high-speed continuous shooting at approximately six frames per second, super-high-sensitivity shooting at ISO settings up to 51200 and high-precision SAFOX IXi+ autofocus with accurate subject tracking, guaranteeing crisp images even when in low-light or with a fast moving subject. Additionally, the K-50's 100% field of view viewfinder, innovative shake reduction system, four optional interchangeable focusing screens and a fast shutter with the ability to shoot at speeds up to 1/6000 of a second enable photographers to push the boundaries of high-speed shooting while providing total confidence that their vision is framed accurately and captured in complete focus. And, with new Eye-fi SD card compatibility built in photo and video sharing a breeze! Users can enable automatic transmission of images and video to a smartphone for rapid sharing and even select their favorite images and re-size them before transmission.
The K-50 is available in 120 brilliant and eye-catching color combinations and sets a new standard in the customization of electronics. PENTAX's Color to Order™ system takes advantage of a newly architected supply chain management system that is built to empower consumers to design the product they want.
"The K-50 introduces features that raise the bar in the mid-level DSLR class," said Jim Malcolm, executive vice president, PENTAX RICOH IMAGING AMERICA. "Not only do the hardware and software specs outclass competitors, the Color to Order system is an industry first making it a truly unique offering among a sea of similarity."
PENTAX has also strengthened its weather-sealed lens lineup with the debut of two new lenses; the smc PENTAX-DA L 18-55mm F3.5-5.6AL WR, and smc PENTAX-DA L 50-200 F4-5.6ED WR. The addition of these two lenses expands PENTAX's extensive line of weather-sealed lenses which offer a wide variety of focal lengths and shooting perspectives ensuring there is a lens appropriate for many different shooting and weather scenarios.
Also introduced today is the PENTAX K-500, an entry-level DSLR that augments PENTAX's DSLR lineup by including advanced features uncommon to the entry-level class. Ideal for families and casual photographers with rigorous demands, the K-500 features a 16 megapixel APS-C CMOS image sensor, fast continuous shooting, high sensitivity shooting up to ISO 51200, 100% field of view, in-body shake reduction, and an advanced auto focus module. Operating on four AA batteries, the K-500 guarantees ultimate flexibility and accessibility to a power source when travelling or in remote locations. In addition, the K-500's wide selection of simple user-modes and creative tools enable limitless personalized expressions while its intuitive ergonomics and menu layout make the K-500 approachable and comfortable to use.
Both the K-50 and K-500 are built around PENTAX's acclaimed K-mount system. Thanks to the lasting commitment PENTAX has made to the K-mount photographers are able to use any of the 25 million K-mount lenses that have been manufactured over the life of the mount. Access to this wide a selection is unparalleled and opens up many new perspectives for photographers encouraging boundless creativity.
Pricing and Availability
The K-50 DSLR is available to order today in a choice of 120 color combinations at pentaximaging.com and retail outlets nationwide in July 2013 with a suggested retail price of $699.95 for body only, $779.95 for the kit including DA-L 18-55mm WR lens and $879.95 for the dual lens kit including the DA-L 18-55mm WR and DA-L 50-200mm WR lenses. The K-500 DSLR will be available at retail outlets nationwide and online in July 2013 with a suggested retail price of $599.95 for the kit including the DA-L 18-55mm lens and $699.95 for the dual lens kit including the DA-L 18-55mm and DA-L 50-200mm lenses.
Additional information including product specifications is available here: http://www.pentaximaging.com/news and product images are available here: http://www.pentaximaging.com/press/pressfiles.html.
About PENTAX
PENTAX is a leader in the production of a variety of adventure ready digital cameras including weather-resistant digital SLRs and stylish, compact, waterproof cameras, as well as lenses, flash units, binoculars, scopes, and eyepieces. For more than 90 years, PENTAX has developed durable, reliable products that meet the needs of adventurous consumers and businesses. With headquarters in Denver, Colorado, PENTAX RICOH IMAGING AMERICAS CORPORATION is a subsidiary of PENTAX RICOH IMAGING COMPANY, LTD. effective October 1, 2011. Additional details may be found here: http://www.pentaximaging.com/news
# # #
Media Contact:
Amber Renard
PENTAX RICOH IMAGING
303-728-0255
amber.renard(at)prac(dot)pentax(dot)com
Company Contact:
pentaxinfo(at)prac(at)pentax(at)com
1-800-877-0155
http://www.pentaximaging.com
http://m.pentaximaging.com
http://www.facebook.com/pentax
http://www.youtube.com/pentaxian1
http://www.pentaxphotogallery.com
Major features of the PENTAX K-50 include:
Availability in 120 eye-catching color combinations
As the only camera in the DSLR market that is available in customizable colors, the K-50 sets a new benchmark for individual personalization in the imaging industry. Consumers are able to accent their personal expression by selecting a body and grip color that epitomizes their particular style.
Dependable weather-resistant, dustproof body
Thanks to the 81 seals set in its compact, lightweight, portable body, the K-50 is built to be weather-resistant, dustproof and cold-resistant, even at temperatures as low as -10°C. The K-50 is the constant companion and can be taken along to many outdoor activities such as camping and sporting events without having to worry about weather conditions. Its compact, functional body is carefully contoured with delicate curves, assuring that even a photographer with small hands will have a firm grip of the camera.
Major features of the PENTAX K-50 and K-500 include:
High-resolution, super-high-sensitivity shooting at ISO 51200
The K-50 and K-500 feature a state-of-the-art CMOS image sensor with a large image-capturing area measuring 23.7mm by 15.7mm, to assure high-speed image data readout. This image sensor is coupled with the PRIME M imaging engine delivering super-high-resolution, rich-gradation digital images with approximately 16.28 effective megapixels. The K-50 and K-500 also offer high-sensitivity shooting at a top sensitivity of ISO 51200.
Innovative SR mechanism
The PENTAX-developed SR (Shake Reduction) mechanism effectively compensates the adverse effect of camera shake to deliver sharp, blur-free images, even under shake-prone conditions such as when using a telephoto lens, shooting in the dark without flash illumination, or taking landscapes at twilight. This innovative mechanism works with almost all PENTAX interchangeable lenses — even those developed for film-format cameras.*** Thanks to the SR mechanism's flexible design, which tilts the image sensor unit in all directions, the K-50 and K-500 offer several useful features to assist the photographer during shooting, including an Automatic Horizon Correction function to assure high-precision image framing and effortless adjustment of horizontal alignment; a Composition Adjustment function to allow minute adjustment of image alignment both to horizontal and vertical directions, as well as rotation in the image plane; and an ASTRO TRACER mode to simplify astronomical photography in combination with the optional O-GPS1 GPS Unit.
*** Lenses compatible with this mechanism: PENTAX K, KA, KAF, KAF2 and KAF3mount lenses; screw-mount lenses (with an adapter); and 645 and 67system lenses (with an adapter). Some functions may not be available with certain lenses.
High-precision autofocus with SAFOX IXi+ AF module
The K-50 and K-500 feature the state-of-the-art SAFOX IXi+ AF sensor module, which assures responsive, high-precision autofocus operation with 11 sensors (including nine cross-type sensors in the center). It also features a spotbeam projector to assist AF operation in poorly lit locations. Its select-area expansion function keeps the sensor module tracking a moving subject, even when the subject moves out of a pre-assigned auto-tracking area, by assessing the distance data collected by neighboring focus sensors. This means not only greatly improved accuracy and speed of detecting moving subjects during autofocus operation, but also the enhanced auto-tracking performance of moving subjects when using a telephoto lens.
High-speed continuous shooting, at approximately six frames per second
When shooting sports, stage performances or wildlife, the K-50's high-speed continuous shooting function comes in handy. It allows the photographer to record active, fast-moving subjects in a series of images, at a maximum speed of approximately six images per second (in the JPEG recording format). When shooting with the K-500 users can take advantage of fast shooting speed of up to five frames per second with the use of four AA batteries. And, if using the optional D-Li109 rechargeable battery with the K-500 shooters can enjoy a fast shooting experience of up to six frames per second.
Optical finder with approximately 100% field of view
Despite its compact size, the K-50 and K-500 feature a glass prism finder with nearly 100% field of view and approximately 0.92-times magnification (with a 50mm F1.4 lens at infinity) to cover the entire field of view for easy focusing and framing. Since it delivers a clear view of the subject even in bright sunshine and eliminates parallax and time lag in the viewfinder image, the K-50 and K-500 respond efficiently and reliably to demanding applications and subjects, such as landscapes requiring delicate, high-precision framing, and sports scenes where the timing of shutter release is critical. The infocus point is indicated as a red point in the viewfinder for at-a-glance confirmation.
High-quality movie recording
The K-50 and K-500 capture high-resolution, full HD movie clips (1920 x 1080 pixels) in the H.264 recording format, with a choice of frame rate (30, 25 or 24 frames per second). The K-50 and K-500 even come with creative image-processing tools**** like Custom Images and useful movie-recording features like an interval movie recording function, for the production of more personalized movies.
**** The frame rate may vary when nonstandard image processing is required.
Effortless, user-friendly Auto Picture and Scene modes
The PENTAX-original Auto Picture mode automatically selects the most appropriate shooting mode for a given subject or scene from Portrait, Landscape, Macro and other distinctive shooting modes. When using this mode the K-50 and K-500 set all vital camera settings — including shutter speed, aperture, white balance, saturation, contrast and sharpness — enabling the photographer to concentrate on image composition and shutter opportunity. The K-50 and K-500 also offer 19 Scene modes, including Night Scene Portrait, Pet and Backlight Silhouette, to simplify photographing complicated or demanding subjects and scenes by optimizing all camera settings with a simple choice of the corresponding icon on the camera's LCD monitor.
A selection of image-processing tools for creative, personalized expression
The K-50's and K-500custom image function allows the user to easily and quickly select the desired finishing touch for a particular image, with a choice of 11 custom image modes including, include Bleach Bypass to create a dramatic visual effect used in motion pictures, and Cross Process to produce fanciful, eye-catching images with dramatic colors. The K-50 and K-500 also provide 19 distinctive digital filters to add unique visual effects to captured images and produce creative, artistic photos without the need for a computer. The user can even explore new creative possibilities by applying multiple filters to a single image.
Choice of two power sources
Included with the K-50 is a rechargeable lithium-ion battery that is capable of capturing approximately 480 images with a single recharge. ***** However, K-50 and K-500 users are always assured access to a power source with the ability to power their cameras with four AA-size batteries using the D-BH109 AA Battery Holder. The D-BH109 comes standard with the K-500. And, when used with Energizer Ultimate Lithium Batteries, the K-500 can capture as many as 1,250 images with just one set of batteries. Since AA-size batteries can be easily obtained almost anywhere around the world, there's no need to worry about battery shortages, even when on the road.
***** Under testing conditions prescribed by PENTAX, using the D-LI109 Rechargeable Lithium-ion Battery with no flash discharges.
Other features:

Large, wide-view 3.0-inch LCD monitor with approximately 921,000 dots
77-segment multi-pattern metering system for extra-accurate light measurement
DR (Dust Removal) mechanism to shake dust from the surface of the CMOS image sensor
PENTAX-designed Hyper control system to assure flexible, unfailing response to the photographer's creative intentions
RAW data retrieve function to save original raw data of a just-recorded JPEG-format image
RAW/Fx button for single-action switching of image file format, as well as for assignment and instant recall of a specific function
Compatibility with Eye-Fi wireless LAN SD memory cards
SILKYPIX Developer Studio 3.0 LE for PENTAX RICOH IMAGING(RAW-data processing engine developed by Ichikawa Soft Laboratory) included, together with the K-50's in-body RAW data processing capability
Overview of weather-sealed lenses:
smc PENTAX-DA L 18-55mm F3.5-5.6AL WR lens - This standard zoom lens covers focal lengths from 27.5mm wide angle to 84mm moderate telephoto (in the 35mm format). Thanks to the incorporation of high-performance aspherical and super-low-dispersion glass optical elements in its optics, it assures outstanding image resolution and remarkable brightness, even at the edges, while effectively compensating various aberrations.
smc PENTAX-DA L 50-200mm F4-5.6ED WR lens - This telephoto zoom lens covers focal lengths from 76.5mm moderate telephoto to 307mm super telephoto (in the 35mm format). With the incorporation of extra-low-dispersion (ED) glass optical elements, it assures excellent description of the subject in various telephoto applications, including portraiture, sports/action and landscape, while effectively compensating chromatic aberration over the entire zoom range.
♦ All other brands or product names are trademarks or registered trademarks of their respective companies.
♦ Designs and specifications are subjects to change without notice