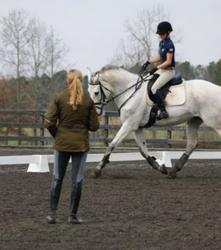 Norwood, NC (PRWEB) June 11, 2013
AREA II is pleased to announce that the Young Rider camp will be held at The Fork Farm and Stables the week of July 9-15th in preparation to choose the teams to send to the North American Junior Young Rider Championships in Kentucky the following week. The Young Rider camp will be conducted by Sinead Halpin. Ms. Halpin was the highest placing American at Rolex in Lexington, Kentucky in 2011; the highest placing American at Burghley, in Stamford, Lincolnshire, England in 2012; short-listed for the 2012 Olympics; and named Horseman of the Year 2012. To prepare for the camp young riders from all over the area have been working hard for a chance to qualify to represent AREA II in a team competition on the international stage at the one and two star level.
"We are very excited to be hosting camp at this facility. The Fork is unbeatable as far as facilities are concerned, and with everything there is to offer on this beautiful property it is the perfect place to create a team atmosphere before what is to be the biggest competition a lot of these kids have seen at this point in their careers" says Megan Kepferle, AREA II Co-Coordinator.
AREA II Young Riders is a 501c3 organization. These kids have worked hard fund raising all year to help minimize the high costs of team competition. AREA II would like to formally thank The Fork Farm and Stables for accommodating our young riders and making this possible.