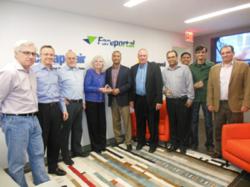 New York, NY (PRWEB) June 10, 2013
Fareportal and its affiliate Travelong, a full-service travel agency, have again received the Peak of Excellence Award from Sabre Travel Network, given to leaders and dedicated professionals in the travel industry. Recognized for the fourth consecutive year, Fareportal and Travelong were selected for their overall achievements and advancements during the past year. The award was presented to Sam Jain, CEO at Fareportal and Travelong, by Gerry More-Murray, Vice President, Eastern Division at Sabre and Bob Clark, Account Director at Sabre on Friday, June 7, 2013 at Fareportal's corporate headquarters in New York.
"It's an honor to again receive Sabre's Peak of Excellence award," said Jain. "Winning the award for the past four years demonstrates that Fareportal and Travelong continuously provide our customers with the most innovative and reliable travel solutions."
Most recently, through a collaborative technology effort, Fareportal and Sabre launched US Airways ChoiceSeats on CheapOair.com, the first online travel website that enabled customers to book the airline's paid seat option.
Fareportal, Travelong and their affiliate companies have earned continuous accolades for outstanding product offerings and performance, with honors from LAN Airlines, China Airlines, Korean Airlines, Avianca and TACA Airlines, Ethiopian Airlines and Air India, among many others.
For more information about Fareportal and its brands, visit http://www.Fareportal.com.
ABOUT FAREPORTAL
Fareportal is an industry-leading travel technology company that develops innovative tools for leisure and business travelers, partners and suppliers. Its range of products includes affordable travel deals across the mobile and social web, and advertising solutions that deliver value and results. With a portfolio of brands including CheapOair.com, CheapOair.ca, CheapOair.co.uk, CheapOstay and OneTravel, Fareportal makes booking and planning travel easy and hassle-free for millions of customers every year.
ABOUT TRAVELONG
Travelong is a unique, full-service travel agency in New York City serving more than 100 corporate clients and 30 home-based agents/independent contractors across the United States since 1933. Over the past 80 years, accomplishments within the travel industry have been credited to highly experienced travel consultants whose ultimate goal is client satisfaction, using the latest technology, solutions and information to offer corporate clients the tools they need to achieve business success.
ABOUT SABRE TRAVEL NETWORK
Sabre Travel Network® provides technology to the travel industry. It operates the world's largest travel marketplace, connecting travel buyers and sellers through the Sabre global distribution system (GDS). Its innovative technology connects 370,000 travel agents to more than 400 airlines, 100,000 hotels, 27 car rental brands, more than 50 rail providers, 14 cruise lines and other global travel suppliers. More than $100 billion of travel is purchased through this channel annually.
Sabre Travel Network is part of Sabre Holdings®, a global travel technology company serving the world's largest industry- travel and tourism. For more information please visit: http://www.sabretravelnetwork.com.