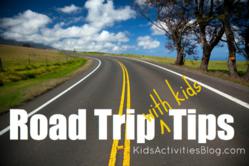 Bring along plastic cups for serving snacks and make a travel box to keep kids entertained for hours.
Dallas, TX (PRWEB) June 30, 2013
Ready to embark on a family road trip this summer? Check out these tips for road trips published on Kids Activities Blog. Seasoned Moms are sharing their travel box secrets to keep everyone happy and sane during long road trips.
The laundry list of over 40 tips includes making a travel activity box using stickers, pipe cleaners, magnifying glass, band aids and lots of other little items that will keep the back row occupied. Other fun tips include making a felt activity board, making a map of the journey in the car, and bringing along a mini-white board and some odor-free dry erase markers.
A fun adventure book on CD will can keep the whole family entertained for hours. Bring along several disposable cameras to let the kids be the official photographer for the trip. I Spy Jars, toy magazines, portable DVD players, aluminium foil, pipe cleaners, surprise snacks, and sticky sticks are some of the items that will keep kids entertained for hours in the car.
Other essential items that moms should consider bringing along include plenty of diaper wipes for all sorts of spills in the car, a load of different size ziplock bags for any food leftovers or to keep track of toothbrushes, a first aid kit with Tylenol, several spill proof cups, painters tape, and cups not for drinking but serving snacks in the car.
For detailed descriptions and additional road tips, check out Kids Activities Blog this week. Come get inspired to keep the road trip happy and sane for the entire family.
About Kids Activities Blog
Kids Activities Blog is a website created by two moms (who collectively have 9 children), Rachel Miller and Holly Homer from June Cleaver Nirvana. It is their daily goal to inspire parents and teachers to play with kids. This interactive website publishes simple things to do with kids twice a day. Kids Activities Blog is a great tool for moms and teachers to find kid-friendly activities that create memories and sneak learning into the fun.