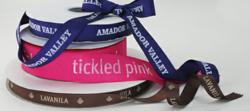 Salt Lake City, UT (PRWEB) June 19, 2013
Printed ribbon rolls can be used for a large number of different things. They are classy and versatile. Someone could use them for weddings, in decorations, and flower arrangements. They can also be used in the classroom to decorate chalk boards. They can be used for hair ribbons, or craft projects. There is virtually no end to the uses of a custom printed ribbon roll.
Soon individuals will be able to order an assortment of different ribbons on Personalized Ribbons.
Which ribbons would be the best choice?

Single Faced Satin- One shiny satin side, and one textured side
Double Faced Satin- Both sides are soft shiny satin
Grosgrain- Textured ribbon, much like corduroy
Floral Satin Acetate- A stiff polyester ribbon, perfect for bouquets
Floral DYNA Satin- Very similar to the Satin Acetate, this ribbon is softer, and more flexible
Full Color Printed- A dye sublimated ribbon that is capable of many colors
PersonalizedRibbons.com is a subsidiary of Coller Industries, Inc, who recently announced that they had purchased a Long Island, NY company called Ribbon Printers.
Customers can already order Single Faced Satin Ribbons online here!