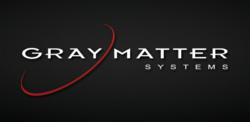 This expansion is a big step for us but it's not just about offering the best industrial automation software and hardware. It's also about our relentless pursuit of ROI for our customers. -- James Gillespie, CEO, Gray Matter Systems.
Pittsburgh, PA (PRWEB) June 12, 2013
Gray Matter Systems today announced it has expanded its territory to include Louisiana, Mississippi, Texas, Oklahoma, Arkansas, Western Tennessee and Southeastern New Mexico in the Gulf Region. This announcement marks a milestone in this company's more than 20 year history of providing leading industrial automation software, hardware and services to manufacturers, water/wastewater facilities, oil and gas companies, power generation services, and other industries.
"This expansion is a big step for Gray Matter Systems," James Gillespie, CEO, Gray Matter Systems said. "But it's not just about offering the best industrial automation software and hardware. It's also about our relentless pursuit of ROI for our customers, regardless of size or industry. That, added to the fact that we have the best team in the business, is what makes Gray Matter Systems unique and truly sets us apart from the rest. I'm excited to bring that to the Gulf Region."
Gray Matter Systems' comprehensive offering includes hardware and software solutions for process automation, data management, operation supervision, work process management, and alarm response management. The company's family of vendors including Advantech Industrial and Embedded Computers, ACP Thinmanager, Asguard SimpleConnect ICS Security Solution, Sytech's XLReporter, and Specter Instruments' Win-911.
For over 20 years, Gray Matter Systems, headquartered in Pittsburgh, Pa., has been helping customers discover problems, make informed decisions, and predict outcomes in Florida, Michigan, Ohio, Pennsylvania, Canada, Kentucky, and West Virginia.
"We have relied on Gray Matter Systems' superior expertise and service for over 15 years and look forward to another 15 years as we continue the evolution of our SCADA platform integration with additional third party applications to further leverage our investment," said Bill Fritz, P.E., Director of Public Works in Waterford Township, MI.
A recent product addition is the market-driven PVKII Operator Interface.
A true 64-bit package, the PVK II combines an Intel Atom operator interface with iFIX 5.5 HMI/SCADA embedded solution from GE Intelligent Platforms.
Gray Matter Systems has been complimenting its product offerings with professional services since starting business in 1991, offering engineering services, systems updates and improvements, and IT services. Gray Matter Systems' signature DiscoveROI program is specifically designed to help companies identify and understand problems, architect solutions within a budget, deliver benefit, and work with stakeholders to adopt the solution.
"If you are looking to standardize work flow with real time data and mistake proof your manufacturing environment, I would recommend partnering up with Gray Matter Systems," said John Angelilli, COO, Zidian Food Group. "It's not just the software, but their team understands the process."
Continuous customer feedback shows a proven track record of deploying customized solutions to reduce waste, increase uptime, and provide accurate operational information in facilities throughout North America and Canada.
"I want to extend my thanks to Gray Matter Systems for the outstanding job their team did to bring our project to completion. The team's persistence to accomplish what needed to be done, 'can-do' attitude, and follow-up service surpassed my expectations. I look forward to working with Gray Matter Systems again," said Evenor Cervantes, Manager Technical Services, Instrument Transformers Inc.