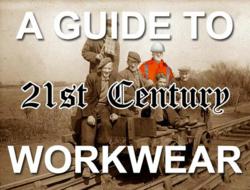 (PRWEB UK) 11 June 2013
The 'Personal Protective Equipment at Work Regulations in 1992' stated that workers exposed to any health or safety risks must be provided with the right equipment and workwear. The term 'workwear' can be attributed to any type of clothing worn for work, though it is most commonly associated to those involved in manual labour.
Work accidents cause hundreds of deaths and thousands of injuries each year. For instance, from April 2011 to March 2012, there were 173 separate workplace fatalities. There is of course also a financial as injuries lead to over 26 million working days are lost in the UK each year, amounting to a loss of £14 billion.
Krowmark have created an infographic to provide an insight into what equipment is needed to tackle specific hazards and various law changes over time. These facts and tips are framed around quirky images from the past century.
The infographic can be found here, and embedded on any website using the embed code found on the same page.