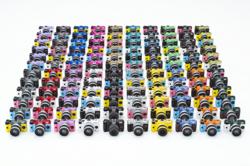 Denver, CO (PRWEB) June 12, 2013
PENTAX RICOH IMAGING AMERICAS CORPORATION today announced the fun and highly capable Q7 compact system camera. Available for order in 120 eye-catching color combinations through PENTAX's Color To Order™ system, the Q7 gives creative control to the consumer with a complete system of interchangeable lenses, filters, viewfinders, and fun smart effects and digital filters enable truly limitless creativity.
Setting a new standard in the imaging industry, the Q7 incorporates a growing trend among consumer products: customization. With an expertly architected supply chain management system designed around Color To Order, consumers are empowered to integrate individual style, personality and taste into their camera sparking the creative process even as their order is placed. Joining the already successful Q10, the Q7 features an upgraded 1/1.7 inch, back-illuminated CMOS image sensor, high sensitivity shooting up to ISO 12800 and enhanced Q ENGINE with faster response time during start-up and shooting time, the creativity continues as beautiful, sharp images are captured.
"Don't be fooled by the Q7's small size and 120 color combinations," said Jim Malcolm, executive vice president, PENTAX RICOH IMAGING. "As the smallest and lightest compact system camera in the world, this tiny gem is packed with serious specs and capabilities including a number of digital filters and smart effects."
Weighing in a just 7 ounces, the Q7's compact body enables easily poket-able portability while the fun filters and assorted lens variety inspire the casual photographer to elevate their creativity. With 19 smart effects and filters and seven lenses, a retro look and feel can easily be applied in-camera with the ability to layer different effects for greater expression and better image quality than cell phones ever dreamt of. Additionally, with the Q7's enhanced Eye Fi SD card compatibility and built-in menus, users can now edit, re-size and share photos instantly.
Also introduced today is the 07 Mount Shield lens. As the seventh member of the Q-family lens mount, the 07 lens produces a truly unique and timeless visual effect, comparable to the original pin-hole camera—with a fixed aperture of F9 and a focal length of 11.5 mm (or 53mm in 35mm format), for an extra-ordinary image with distinctively velvety edges. Featuring a focusing range of approximately 0.7-2m, still life shots and macro photography are given a beautiful dream-like look and feel. Weighing a mere 8 grams, the 07 Mount Shield lens is extremely small, resembling a tiny Q series body cap making it an ideal lens for pocket-able fun, and travel photography.
Pricing and Availability
The Q7 kit with 02 zoom lens is available to order today in a choice of 120 color combinations at http://www.pentaximaging.com and retail outlets nationwide in August 2013 with a suggested retail price of $499.95. The 07 Mount Shield lens will be available for purchase online and at retail outlets nationwide in July 2013 with a suggested retail price of $79.95.
Additional information including product specifications is available here: http://www.pentaximaging.com/news and product images are available here: http://www.pentaximaging.com/press/pressfiles.html.
About PENTAX
PENTAX is a leader in the production of a variety of adventure ready digital cameras including weather-resistant digital SLRs and stylish, compact, waterproof cameras, as well as lenses, flash units, binoculars, scopes, and eyepieces. For more than 90 years, PENTAX has developed durable, reliable products that meet the needs of adventurous consumers and businesses. With headquarters in Denver, Colorado, PENTAX RICOH IMAGING AMERICAS CORPORATION is a subsidiary of PENTAX RICOH IMAGING COMPANY, LTD. effective October 1, 2011. Additional details may be found here: http://www.pentaximaging.com/news
# # #
Media Contact:
Amber Renard
PENTAX RICOH IMAGING
303-728-0255
amber(dot)renard(at)prac(dot)pentax(dot)com
Company Contact:
pentaxinfo(at)prac(dot)pentax(dot)com
1-800-877-0155
http://www.pentaximaging.com
http://m.pentaximaging.com
http://www.facebook.com/pentax
http://www.youtube.com/pentaxian1
http://www.pentaxphotogallery.com
Major Features of the Q7 Include:
Extra-large 1/1.7-inch image sensor — the largest in the Q series
Thanks to the incorporation of a new 1/1.7-inch, back-illuminated CMOS image sensor, the PENTAX Q7 boasts the finest image quality in the Q series. By coupling this image sensor with the state-of-the-art Q ENGINE high-speed imaging engine, the Q7 not only offers high-sensitivity shooting at ISO 12800 and delivers beautiful images with accurate reproduction of gradation and texture, minimizing noise effectively—even at high ISO levels. The Q7's autofocus accuracy during low-illumination shooting has also been improved, assuring pinpoint focus on the subject even at the faintest light level of EV 0. Because of its larger sensor, the angle of view for the Q7 is wider than that of its sister models, even when the same lens is mounted.** When the 02 Standard Zoom lens is mounted, for instance, the angle of view is 23mm to 69mm in the 35mm format (compared to 27.5mm to 83mm for the Q10). Likewise, when the Adapter Q for K-mount Lenses is used with the Q7, the focal length of the mounted lens is extended by approximately 4.6 times (compared to approximately 5.5 times for the Q10).

With Q-mounted lenses, the shift in angle of view may vary depending on the lens type.
Outstanding operability
Thanks to the incorporation of a new Q ENGINE which provides a 10% improvement in speed compared to the existing engine, and optimized algorithm, the Q7 provides a shortened start-up time of approximately one second. Additionally, the Q7 provides a much-improved response including a shortened time lag between exposures. Thanks to the Quick Dial feature, to which the photographer can assign as many as four favorite settings profiles, photography is more versatile and functional than ever, with the addition of AF/MF switching, focus assist ON/OFF and ND filter ON/OFF to the list of assignable functions.
Dependable SR mechanism
Featuring the latest gyro sensor, the Q7's upgraded SR (Shake Reduction) mechanism compensates camera shake by as much as three shutter steps. As a result, the Q7 produces sharp, blur-free images even under conditions prone to camera shake, such as when using a telephoto lens, shooting in the dark without flash illumination, or capturing landscapes in the twilight.
A selection of image-processing tools to create personalized images

Custom Images to add distinctive finishing touches - The Custom Image function adds a distinctive finishing touch to an image, to more accurately express the photographer's creative intention or reproduce the ambience of a specific scene. The user has a choice of 11 Custom Image modes, including Bleach Bypass, which produces a dramatic, movie-like finish.
Digital filter function to apply artistic visual effects - The digital filter function lets the photographer apply a variety of visual effects without the need of an app or computer. Of the total 17 digital filters, 11 filters including Toy Camera, Invert Color and can be applied even during the shooting of still images and movie clips, while the remaining six are applicable only during image editing. The user can layer different filters on to a single image to produce more inventive visual effects.
Smart Effect function for simple dial control of finishing touches - Using the Quick-Dial positioned on the camera's front panel, the user can quickly and effortlessly add the desired finishing touch to an image, while previewing the applied effect on the LCD monitor. From nine Smart Effect modes — including Brilliant Color for a high-saturation finish, and Cross Process for a dramatic unique-toned finish — the user can assign four favorite modes to the dial in advance.
Effortless Bokeh control
The Q7's unique bokeh control function allows the user to purposely make the subject stand out by automatically assessing the relative distance between the in-focus subject and obtrusive objects in the field of view. Since this function simplifies the advanced, SLR-caliber technique of intentional defocusing, even a first-time photographer can effortlessly capture high-quality images with beautifully defocused foregrounds and/or backgrounds.
High-quality, Full HD movie recording, even during high-sensitivity shooting
Thanks to the improvements in the image-processing algorithm, the Q7 captures beautiful Full HD movie clips (1920 x 1080 pixels, at 30 frames per second, in the H.264 recording format) with minimal noise, even during high-sensitivity recording at ISO 12800. A new interval HD movie recording function adds more creativity to visual expression. The user can also take advantage of advanced image-processing tools including the Smart Effect modes,** an array of in-body movie editing tools, and autofocus operation during movie shooting.

The frame rate may vary when a selected Smart Effect mode requires nonstandard image processing.
High-resolution, wide-view 3.0-inch LCD display
The Q7 features a high-resolution 3.0-inch, 3:2-proportion LCD display with approximately 460,000 dots. Treated with AR (Anti-Reflection) coating, the display offers sharp, bright images even under bright sunshine by effectively minimizing glare and reflection on the screen. Since its wide-view design makes it possible to view the image from 170 degrees horizontally and vertically, the user has a clear view of the image even when facing the monitor diagonally.
Simple, user-friendly Auto Picture and Scene modes
The Q7 features the PENTAX-original Auto Picture mode, which automatically selects the most appropriate shooting mode from such options as Portrait, Landscape and Macro for a given subject or scene, then optimizes all affecting parameters, such as shutter speed, aperture, white balance, saturation, contrast and sharpness. It also provides 21 Scene modes including Night Scene Portrait, Pet and Backlight Silhouette, allowing even an entry digital photographer to choose the best exposure mode for a complicated subject or scene with the simple choice of an icon on the LCD monitor.
Flexible exposure system for increased control
The Q7's comprehensive exposure system assures all the advantages and flexibility of an interchangeable lens camera system. To accommodate user preferences and varying photographic applications, it offers a choice of four different exposure modes: the all-purpose Programmed AE (P) mode, which automatically selects an optimum combination of aperture and shutter speed; the Shutter-Priority AE (Tv), Aperture-Priority AE (Av) and manual Exposure (M) modes, which allow the photographer to more accurately express specific creative intentions on resulting images.
DRII mechanism for effective dust removal
The Q7's DR II (Dust Removal II) mechanism effectively prevents dust spots from tarnishing captured images, even after the user changes lenses out in the open. Like the PENTAX K-5 II and 645D digital SLR cameras, it employs a highly effective supersonic vibration mechanism, which vibrates the image sensor at high speed to shake the dust off its surface.
Other features:

Compatibility with Eye-Fi wireless LAN SD memory cards
High-speed continuous shooting of up to five images per second
HDR mode to composite a photo with extra-wide dynamic range from three images of varying exposures
CTE white-balance control mode to emphasize the predominant color of a particular scene, such as the sunset
Multi-exposure mode (up to nine exposures on a single image), with an auto exposure compensation function
Remote control receptors on front and back panels
SILKY Developer Studio 3.0 LE for PENTAX RAW-data development software (developed by Ichikawa Soft Laboratory) included; in-camera RAW-data development also available
Optional accessories:

MH-RB40.5 Lens Hood - A black, round, Flower-shaped, metallic lens hood for exclusive use with the PENTAX-02 STANDARD ZOOM lens. (To be launched simultaneously with the Q7 camera body.)
O-CC133 Camera Case (with front cover) - A camera case with two strap lugs at its sides to keep the camera suspended in a level position for delay-free shooting. Comes with a front cover to protect the lens surface from shock and scratches. Made of synthetic leather, with a choice of three colors (black, white and brown). Usable with a PETNAX Q7 or Q10 camera body. (To be launched simultaneously with the Q7 camera body.)
•O-CC1332 Lens Case - A stylish, partitioned tubular lens case made of synthetic leather, holding several PENTAX Q-mount interchangeable lenses. Provides a fastening belt and a carabiner hook to mount it on a belt loop or backpack, and internal padding to protect the lenses from shock and scratches. Usable with all PENTAX Q-mounted lenses. (To be launched simultaneously with the Q7 camera body.)
O-CC1333 Camera Case
A camera case exclusively designed for use with the PENTAX Q-series camera body. Made of soft, elastic jersey material to protect the camera body and its LCD monitor from scratches. Provides a strap loop and a flap pocket to store small articles on the outside. Available in beige and red colors. (To be launched simultaneously with the Q7 camera body.)
•O-CB133 Camera Bag - A navy-colored camera case made of synthetic leather, exclusively designed for use with the PENTAX Q-series camera. Holds one camera body (Q7, Q10 or Q) and as many as seven Q-mount interchangeable lenses, with a pocket on the back to store small articles. (To be launched simultaneously with the Q7 camera body.)
♦ HDMI, the HDMI Logo and High-Definition Multimedia Interface are trademarks or registered trademarks of HDMI Licensing LLC.
♦ All other brands or product names are trademarks or registered trademarks of their respective companies.
♦ Designs and specifications are subjects to change without notice.