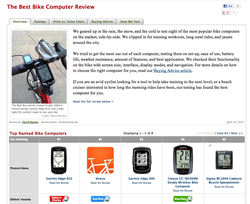 We geared up in the rain, the snow, and the cold to test eight of the most popular bike computers on the market, side-by-side.
CHEYENNE, WY (PRWEB) June 11, 2013
OutdoorGearLab.com revealed today the results of the 2013 Editors' Choice awards via their Top Bike Computer review, listing this year's best and best value. Review Editors chose the following winners after extensive field testing in the greater Washington D.C. area and on long commutes and rides along the east coast. We took eight models and put them to head-to-head tests to figure out what was the best in the following categories: ease of use, features, and attachment method. The most important aspects of a bicycle computer are that it is easy to set-up and use while riding, it is feature rich to help riders train and record trip details. Even though all the contenders we reviewed got the job done, we found that some computers are better for certain applications than others. Each underwent extensive side by side tests to evaluate these key performance differences.
The winners are:
Garmin Edge 810
Winner of the Editor's Choice award for 2013. According to Gear Editor David Mackey, "This won our top honors for a combination of ease of use and the amount of functional features. After extensive testing, the Edge 810 held up in snow and rain, navigated us through unknown roads, and kept us focused during workouts. Although the data collected is similar to the Strava app, the Edge 810 outperformed while on the bike since it is more tailored to cycling use than a smart phone."
Cateye Strada
Winner of the Best Buy award for 2013. This award is given to a product that balances an extremely high score in our tests and a very reasonable price. According to David Mackey, "A durable, reliable, and convenient wireless bike computer, the Strada records eight modes while keeping a slim profile and great functionality. The set-up is intuitive and quick, and can work on a multitude of bikes. Not a training tool, it is a good computer for a cyclist looking to keep track of basic ride statistics."
STRAVA App
Winner of the Top Pick award for 2013. This award is given to a product that excels at a specific application. According to David Mackey, "STRAVA is a unique alternative to a bike computer: a cycling app. Free (if you own a smart phone) and loaded onto your smart phone, STRAVA keeps track of distance, time, elevation, calories, and speed. Third-party components allow heart rate and cadence tracking, and an upgraded membership accesses power output, your suffer score, and GPX file exporting.The STRAVA website adds a great social aspect to training. It is extremely easy to use, giving in-depth analysis of recent rides and connecting you with friends and strangers alike."