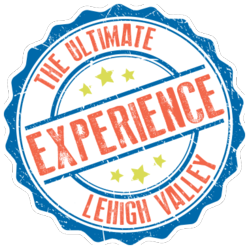 Lehigh Valley, Pa. (PRWEB) June 12, 2013
Lehigh Valley, the official Destination Marketing Organization for Lehigh and Northampton counties in eastern Pennsylvania, is inviting visitors to experience Lehigh Valley like no one ever has before.
The year-long "The Ultimate Lehigh Valley Experience" sweepstakes will allow winners to spend a night at The Crayola Experience™, claim exceptional seats to Musikfest concerts, sit front row at the Triple A National Championship Game at Coca-Cola Park, skip the lines at Dorney Park, get hefty gift cards, sleep overnight in the area's best hotels and that's just the start of it.
In coordination with our partners, Discover Lehigh Valley will offer an "Experience" once per month. Each month will be themed and entries are available at LVUltimateExperience.com There will be one grand prize winner and one runner up each month.
The Ultimate Lehigh Valley Experience Schedule:
June: The Ultimate Crayola® Experience
July: The Ultimate Musikfest Experience
August: The Ultimate Baseball Experience
September: The Ultimate Paranormal Experience
October: The Ultimate Acoustic Experience (Martin Guitar)
November: The Ultimate Holiday Experience
December: The Ultimate Winter Experience (Ski)
January: The Ultimate Sands® Casino Resort Bethlehem Experience
February: The Ultimate Girls' Experience
March: The Ultimate Family Experience
April: The Ultimate Guys' Experience
May: The Ultimate Dorney Park Experience
Grand Prize winners of each month will also receive an Olympus digital camera to capture their Ultimate Lehigh Valley Experience courtesy of our friends at Olympus.
For more information, full rules and prize descriptions for The Ultimate Lehigh Valley Experience, please visit LVUltimateExperience.com
About Discover Lehigh Valley
Discover Lehigh Valley is the designated destination marketing organization (DMO) of Lehigh and Northampton counties. Its mission is to promote and develop Lehigh Valley as a leisure and business travel destination. Created in 1984, Discover Lehigh Valley assists in promoting regional tourism, an industry that generates $1.76 billion in annual revenue and accounts for more than 22,000 jobs in Lehigh Valley. For more information on Discover Lehigh Valley and its activities or to request a Lehigh Valley Official Visitors Guide, call (800) MEET-HERE, or visit the official tourism website of Lehigh Valley at DiscoverLehighValley.com.
###