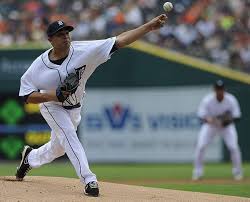 Detroit, MI (PRWEB) June 10, 2013
Jose Alvarez was only supposed to be a spot starter in the Tigers' game on Sunday, June 9, 2013. He was playing in place of Anibal Sanchez, who was sitting out because of tightness in his shoulder. Alvarez knew even before the game started that this was going to be a one-time appearance, as he would be sent down to Triple-A Toledo right after the game. Unexpectedly, Alvarez did a great job on Sunday, as he got the win and swept the Cleveland Indians. Alvarez played six straight innings as the team beat the Indians 4-1 in front of a sold out crowd at Comerica Park. In his major league debut, Alvarez, who is now 1-0, only gave up three hits and one run. He also struck out seven Indians. Doing this, Alvarez became the first starting pitcher to get the win in his debut since 2009, and only the second pitcher since 1916 to go at least six innings. He was also the second pitcher to allow three or fewer hits, one or fewer runs, and have at least second strikeouts. Alvarez stated after the game, "I felt good. Maybe in the first inning I was a little excited, a little nervous. But like I said, I tried to control that as much as I could, then after that I focused on the game and gained some confidence."
To continue reading up on the rest of Detroit Tigers and their season, check out http://www.DetroitTigers-Tickets.com. This is the number one stop for Tigers tickets, a social media fan hub, and an active Tigers blog.