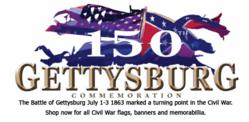 With so much recorded history to learn from, it is good to remind ourselves of our past, so we don't repeat ourselves in the future.
Little Rock, AR (PRWEB) June 17, 2013
Civil War historians and general history lovers have been looking forward to the upcoming 150th anniversary of the Battle of Gettysburg, one of the pivotal battles of the American Civil War. This historic battle took place on July 1-3 of 1863. The three day battle was a major turning point of the war because the North was able to turn away a Confederate advance on the 3rd day of battle. Unfortunately, it was also one of the costliest battles of the Civil War with about 51,000 casualties and around 7,500 dead.
FlagandBanner.com will mark the occasion with a special Historical Civil War flag kit that will be available for sale starting June 10th. The kit will include two tangle free flag poles, a 34 star Union flag (1861-1863) and the Confederate Battle Flag.
For those historians who know that West Virginia was admitted to the Union in June 1863 making it the 35th state, the star itself was not added to the Union flag until after the Battle of Gettysburg on July the 4th 1863.
The Civil War was the bloodiest war ever fought on American soil. Some estimates say that more than 600,000 soldiers from both the North and South were killed and more than twice that were injured in the war.
"It could be said that the Civil War was a costly lesson. Does growth and change in our society have to be won or lost with weapons?" Kerry McCoy, president of FlagandBanner.com said. "With so much recorded history to learn from, it is good to remind ourselves of our past, so we don't repeat ourselves in the future."
Lincoln's famous Gettysburg Address will also turn 150 this November. Many Americans remember the opening words of this address, "Four score and seven years ago" even if they are not history buffs. It is said that the address was given while Lincoln was suffering from a mild case of small pox. Despite his illness he was to give one of the most remembered and revered speeches in American history. One of the most poignant lines of his less than 10 sentence speech were the final words, "That we here highly resolve that these dead shall not have died in vain, that this nation under God shall have a new birth of freedom, and that government of the people, by the people, for the people shall not perish from the earth."
FlagandBanner.com is based in Little Rock, Ark., and has been in business since 1975. They have been selling flags, flagpoles, banners, pennants and home and garden décor online nationally since 1995.
For more information about the more than 22,000 products Arkansas's FlagandBanner.com offers, log on to FlagandBanner.com. Become a fan of FlagandBanner.com on Facebook, or call one of their experts at 1-800-445-0653.