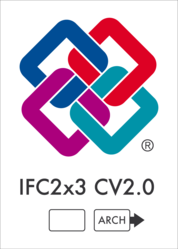 This certification is one more step in our commitment to supporting Open BIM workflows for our customers.
Columbia, Maryland (PRWEB) June 11, 2013
Nemetschek Vectorworks, Inc. is pleased to announce that Vectorworks Architect software has achieved certification from buildingSMART International for the BIM data exchange standard IFC 2x3 Coordination View 2.0.
The IFC Certification 2.0 procedure requires BIM software vendors to pass new, more comprehensive and rigorous tests with the intent of promoting consistent and reliable interoperability across all the participating certified BIM programs.
"This certification is one more step in our commitment to supporting Open BIM workflows for our customers," said Sean Flaherty, CEO of Nemetschek Vectorworks. "We understand the importance of offering dependable collaboration in balance with design freedom, analysis tools and documentation capabilities so that all stakeholders in a project can easily work together."
Managed by buildingSMART International, Industry Foundation Classes (IFC) is a neutral exchange format, not controlled by any single software vendor. As such, it provides a robust way to exchange BIM models between various software programs.
With this certification, Vectorworks Architect has demonstrated support for IFC Export, based on the Coordination View 2.0 and supporting the Architecture Exchange Requirements. IFC Interfaces are delivered with Vectorworks Architect and automatically installed, as they are fully integrated into the software.
The certified Coordination View 2.0 IFC Export will be available with Vectorworks Architect 2013 Service Pack 4, which will be released this month.
For more information about buildingSMART International and IFC, please visit: http://www.buildingsmart.org.
About Nemetschek Vectorworks, Inc.
Nemetschek Vectorworks, Inc. is a wholly owned subsidiary of the Nemetschek Group and has been developing software since 1985. The Vectorworks line of software products provides professional design solutions for more than 450,000 designers in the AEC, entertainment and landscape design industries. With a tradition of designing flexible, versatile, intuitive and affordable CAD and BIM solutions, Nemetschek Vectorworks continues to be a global leader in 3D design technologies. For more information, visit http://www.vectorworks.net.
# # #