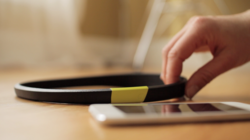 turning the invisible activity of the mind visible and meaningful
Los Angeles, CA (PRWEB) June 12, 2013
Nifty gadgets like Nike FuelBands, FitBits, Jawbone Ups are beginning to help people understand how their bodies work, but the inner workings of the brain have largely remained a mystery -- until now. Two aspiring young entrepreneurs and cognitive scientists, Laura Berman and Arye Barnehama, have paired up to solve this problem. They created Melon, a cutting-edge, wearable tech accessory that allows you to see and understand the invisible activity of your brain, now on Kickstarter!.
Melon is a stylish headband and mobile app duo that wirelessly tracks brainwave activity and helps users improve their focus in relation to their activity, environment, and mood. The sleek, unobtrusive headband comes in black and white and can be worn during an endless array of activities -- from working to studying, playing sports, dancing, playing an instrument, painting, or doing yoga -- completely transforming the way users engage in each task.
Melon now has 2,533 backers and growing for their new wireless brainwave-measuring headband for the style-conscious consumer who wants the cutting edge of Quantified Self with everyday wearability. Just ten days ago, Melon launched on Kickstarter and has since raised $269,251, with only 24 hours left.
This is the last chance to get a Melon on Kickstarter!