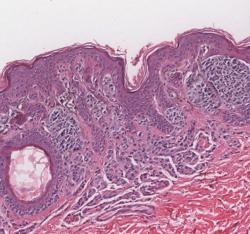 From bench to bedside, the future is here."
Dayton, OH (PRWEB) June 11, 2013
Dermatopathology Laboratory of Central States (DLCS), an anatomic pathology and molecular diagnostics laboratory, announced today that it offers whole slide images (WSI) to referring physicians at no additional cost. DLCS was an early adopter of digital imaging and purchased its first scanner in 2009. Thousands of DLCS cases have been scanned for educational and clinical use.
The College of American Pathology (CAP) recently published guidelines for validation of WSI for primary diagnosis. While not FDA approved, laboratories can perform these validations in order to use whole slide images for primary diagnosis. (Arch Pathol Lab Med. doi: 10.5858/arpa.2013-0093-CP).
"We realized that digital imaging was a research standard that would soon make its way to the clinical arena," said Dr. Michael Kent, Translational Scientist at DLCS. "We have been sending whole slide images to our contributors for years. We also use them in consults, and host digital teaching conferences for residents nationwide. We are currently exploring the use of digital imaging technology in quantitative analysis such as evaluating co-localization of proliferative immunohistochemical markers within melanocytes in melanoma."
Digital imaging also drove the development of an interactive iPad application called Clearpath by DLCS. This comprehensive atlas showcases high resolution images of dermatopathology cases for study and general interest. Seamless image rendering provides smooth and clear navigation with the use of a digital microscope, and each case is equipped with touch enabled findings. There is also an exam module for board review.
"From bench to bedside, the future is here," said Dr. John C. Moad, Laboratory Director. "It's very exciting to be involved in bringing the digital landscape to dermatology and dermatopathology."
If you have any questions please contact Michael Kent, MS, PhD, Translational Scientist, DLCS at (800) 532-3232 or mkent(at)dermpathlab(dot)com.
ABOUT DLCS
Dermpath Lab of Central States (DLCS) is an independent, national dermatopathology laboratory whose goal is to provide physicians with accurate diagnoses of skin biopsies. DLCS has a focus on quality, efficient service, and education – all essential to our dedication to patient care. For additional information about DLCS visit http://www.dermpathlab.com.