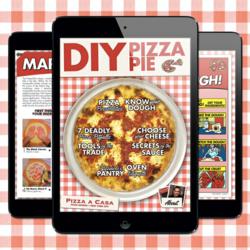 This app is the key to cracking the code of how to bake perfect pizza in the home oven.
(PRWEB) June 11, 2013
Since opening Pizza a Casa Pizza School in April 2010, Mark Bello and the Pizza a Casa team have stood shoulder-to-shoulder with thousands of people (of all ages) from around the world and taught them how to make perfect pizza in a home kitchen. More than 16,000 pizzas have been made in the home ovens of Pizza a Casa in the intensely fun and informative class. Now, Pizza a Casa's Hands-On Pizza Workshop has been translated into a multimedia iPad experience — have the fun of the class and learn serious pizza-making skills all at once. The newly released DIY PIZZA PIE app is an information-packed tool designed to help anyone on their quest for making perfect pizza in the home oven, and it's unlike any app ever seen before.
Through 70 original videos, eight chapters of engaging/interactive content, and a cornucopia of custom illustrations and photography, DIY PIZZA PIE teaches how to make the best pizza — all in a home oven and with ingredients found at any neighborhood grocery store. Plus, it's chock-full of hidden tips, tricks, surprises and bonus videos that guarantee pizza epiphanies for all. DIY PIZZA PIE teaches everything from how to make the perfect dough from scratch, to how to properly stretch, top, and bake a pizza, to how to navigate a pizza into and out of the oven with swiftness and grace. Secrets of sauce making, several fundamental pizza recipes, handy email-able shopping lists, and tips on how to keep an iPad clean (even with doughy hands) also included!
The user-friendly format of this app will satisfy and enthrall novices and experienced pizza makers alike. Mark Bello has been teaching how to make pizza for more than 10 years, and his app, DIY PIZZA PIE, contains a decade-plus of serious pie-making know-how distilled into a fun and totally unique, step-by-step format.
With five star reviews and accolades like, "Incredible App for Pizza Lovers" and "Mystery is solved – now I get it!" the DIY PIZZA PIE app identifies the most persistent pizza-making pitfalls while simultaneously fine tuning the ways of communicating better pizza-making practices in a simple and non-intimidating way.
For more information, photography, to schedule an interview or a sample download, please contact Jenny Bello and visit Pizza a Casa on-line at http://www.pizzaschool.com.