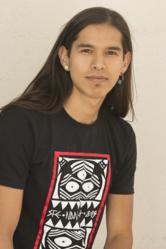 The Artist Designed Collection will allow SWAIA to bring fresh and exciting work to an ever-expanding audience.
Santa Fe, New Mexico (PRWEB) June 20, 2013
The Southwestern Association for Indian Arts is proud to present the first ever Artist Designed Collection at the 2013 Santa Fe Indian Market. The Artist Designed Collection will allow SWAIA to bring fresh and exciting work to an ever-expanding audience. Inspired by the artistic intersection of traditional and contemporary design, SWAIA has chosen artist Ehren Kee Natay (Diné/Kewa Pueblo/Cherokee) to create a set of bold motifs that encapsulate the innovative spirit of the Santa Fe Indian Market.
Joining the ranks of the prolific poster artists of previous years, Natay feels deeply honored by this opportunity to produce new work for SWAIA. His designs, which will be featured on a range of limited edition merchandise, focus on bridging the gap between Native tradition and modern trends. He seeks to combine, as he says, "Native themes with the style of street art." The playful designs, which collapse such disparate motifs as Mimbres iconography and graffiti techniques, pay homage to both tradition and innovation in a novel fashion.
As an artist of multiple media and a professional musician, dancer, and actor, Natay feels comfortable taking on a project of this magnitude. Explaining that he "fills notebooks with the same images over and over," he notes that each design required many preparatory sketches. The vibrant colors also required this level of attention; as in traditional Native art, each hue carries a symbolic meaning and is meant to evoke an emotional response. Each line and color has a distinct purpose, making the designs both aesthetically and ideologically significant. Like the high-caliber artists commissioned by SWAIA in previous years, Natay puts a new spin on Native art, ensuring that the esteemed legacy of the Santa Fe Indian Market will continue far into the future.
All proceeds of the Artist Designed Collection will directly benefit SWAIA and, in turn, the artists of the Santa Fe Indian Market. SWAIA, as an advocate for Native artists, strives to build a broad and supportive platform for Native American art and culture. The Artist Designed Collection, created by a Native artist, will expand this platform and effect positive change for Native artists.
For more information on the Artist Designed Collection and the 2013 Santa Fe Indian Market, please visit http://www.santafeindianmarket.com.
About SWAIA
SWAIA is an advocate for Native American arts and cultures and creates economic and cultural opportunities for Native American artists by producing and promoting Santa Fe Indian Market Week™, the finest Native American art and cultural event in the world; cultivating excellence and innovation across traditional and non-traditional art forms; and developing programs and events that support, promote, and honor Native artists year-round.
SWAIA is a non-profit organization, and keeps no portion of the sales made by artists during Santa Fe Indian Market Week™.
Follow SWAIA on Facebook, Twitter, Instagram, and Pinterest.