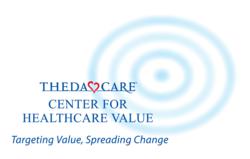 Appleton, WI (PRWEB) June 10, 2013
ThedaCare Center for Healthcare Value CEO John Toussaint, MD, has co-authored The Need for Access to Medicare Fee-for-Service Claims Data , an article for The Journal of the American Medical Association. The article, which was posted online today and will be published in the July print edition, highlights the need for healthcare providers to have access to Medicare fee-for-service data. The data are important for increasing efficiency in healthcare delivery, reducing costs and improving quality. The article also outlines the CMS policy changes needed to expand access to this data.
Dr. Toussaint co-wrote the article with Donald Berwick, MD, former administrator of the Centers for Medicare and Medicaid Services (CMS). The article focuses on two provisions of the Affordable Care Act that significantly impede access to and use of Medicare claims data. It recommends legislative and non-legislative changes to allow freer access to this data.
"Our intent is to urge CMS to release Medicare claims data to state all-payer claims organizations, such as the Wisconsin Health Information Organization, in a way that physicians can use it to better understand their own performance," Dr. Toussaint said. "These organizations are making strides to fill the information gap and increase transparency, but their data sets remain incomplete because of the lack of Medicare claims data. Having access to this data is essential to delivering better healthcare, lowering costs, and improving the quality of care."
The article also examines the future state of CMS. "We see its role as an analytic engine to provide the industry with feedback reports and establish payment based on those metrics," explained Dr. Berwick. "By broadening its focus beyond being just a payer of bills, CMS can foster the type of positive change that adds value for healthcare consumers."
ThedaCare Center for Healthcare Value
The ThedaCare Center for Healthcare Value is transforming the healthcare industry to deliver higher value through experiments, collaboration and education that integrate three interdependent components: delivery, transparency and payment. In these areas, the Center spreads learning and accelerates improvement. Learn more at: http://www.createvalue.org.