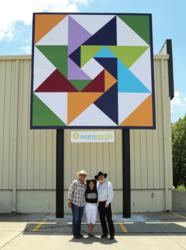 I am truly honored and still in disbelief that my submission was chosen
Omaha, NE (PRWEB) June 12, 2013
June 7th marked the date for the AccuQuilt 4th Annual Barn Quilt Unveiling. Hundreds of quilters and fabric crafters joined guest of honor Ricky Tims in an event that showcased the winning designs of Sue Hageman from Riley, Kansas and runner-up winner - Lee Monroe from Winston-Salem, North Carolina.
Ms. Hageman's grand prize design will be displayed as a 17-foot painted barn quilt at the AccuQuilt Omaha, NE headquarters. Her quilt design will be seen by thousands of people as they travel by on Interstate 80. It will also be prominently displayed to visitors of the AccuQuilt Gallery.
Sue Hageman found her love for quilting a decade ago. She fondly remembers her Grandmother Moyer hand quilting. She used this as her inspiration when creating her own quilts. Hageman enjoys appliqué, wall hanging quilts, and has a love for horses, barns, and of course, barn quilts.
"I am truly honored and still in disbelief that my submission was chosen," Hageman said. "I asked, 'how can you just pick one barn quilt design? There were so many beautiful ones!' I can't imagine a 17 x 17 foot block! It's exciting to be a part of the AccuQuilt Barn Quilt Contest and the Barn Quilt Trail. I just recently had the opportunity to meet the lovely Donna Sue Groves and her mother. It was amazing to meet them and see where the Barn Quilt Trail began! Thank you AccuQuilt!"
The event was open and free to the public. Attendees enjoyed the unveiling ceremony along with an entertaining musical performance by Steve Nabity and The Stitches. Visitors also met AccuQuilt staff, toured the facility, and viewed the quilt gallery that is hosting the opening of Ricky Tims' quilt exhibit titled "Ricky Tims: Musician and Contemporary Quiltmaker" on display through July 10. Guests of the Barn Quilt Unveiling Event were the first to tour the exhibit and had the opportunity to meet Ricky Tims in person.
This event also included two quilting retreats sponsored by AccuQuilt and Country Traditions Quilt Shop in Fremont, Nebraska. The first retreat ran June 4-6 and the second, Reunion Retreat, ran June 8-10.
Quilters and fabric crafters had plenty to do at this event. They had the opportunity to make pillowcases for the American Patchwork & Quilting One Million Pillowcase Challenge, as well as complete a heart project with the American Heart Association.
Attendees dropped off donated quilts that will be delivered to victims of the recent Oklahoma tornadoes as part of a relief effort made by AccuQuilt and its dedicated customers.
"For the past four years, AccuQuilt has been proud to host this wonderful event," said Steve Nabity, AccuQuilt Chief Energizing Officer. "This year it's packed with fun and exciting activities including music, retreats, a new gallery exhibit, and charitable projects. It's really something everyone at AccuQuilt looks forward to every year."
About AccuQuilt, Better Cuts Make Better Quilts:
Headquartered in Omaha, Neb., AccuQuilt offers quilters, fabric crafters and retailers a premiere line of fabric cutters, dies, quilting patterns and other quilt and fabric cutting solutions that help quilters quickly and accurately cut shapes for quilting and fabric crafts. AccuQuilt also offers quilters a wide variety of rich educational resources to enhance their quilting experiences. Cutting with AccuQuilt cutters is a natural evolution of fabric cutting methods. "First scissors…then rotary…finally…AccuQuilt" for fast, easy, accurate fabric cutting.