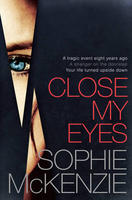 The last page of the book is my favorite. When I had the idea for this final monologue it sent a chill down my spine.
New York, NY (PRWEB) June 11, 2013
British author Sophie McKenzie's latest novel Close My Eyes is a significant departure from the fiction her younger fans have come to know, but perfect to keep you awake all night. In her exclusive interview with TheReadingRoom.com, McKenzie reveals why the change.
Her previous books for children and young adults, include Girl, Missing and Sister, Missing. She has won numerous awards, including being twice long listed for the prestigious Carnegie Medal.
Close My Eyes is a psychological thriller for adults, perfect for readers who love a spine chilling read.
The novel starts with a big punch and ends with a startling revelation. So it's worth staying up late just to get to the final page. As the author reveals in our recent interview with her, 'The last page of the book is my favorite. When I had the idea for this final monologue it sent a chill down my spine and I immediately went back to the earlier related passages to make sure that the final revelation would be properly set up.'
We asked Sophie what she thinks makes a perfect thriller. 'I don't really think in terms of genres … essentially, the secret of a great thriller is – for me – the same as for any book: a strong story, well told, through characters I care about.'
Speaking of characters, when asked which fictional character she would choose to be, if she could choose to be just one, Sophie gave an answer that will no doubt please fans of Jane Austen's Pride and Prejudice.
One of the characters in Close My Eyes is, according to McKenzie, based on a real person – but the fictional character ended up being somewhat different to his real-life counterpart. 'I guess characters are defined by their story and how they respond to it,' said McKenzie, 'they don't exist in a vacuum.'
According to McKenzie, the storyline of Close My Eyes came about 'from experience'; for some women 'having a child can become an absolute obsession'. The starting point for the novel arose from a children's book on King Arthur – the research 'left me hungry to find a way of writing more about the story' and how the obsession of having a child could become a search for the 'Holy Grail'– the result is Close My Eyes.
To read more on our interview with Sophie McKenzie, visit blog.thereadingroom.com.
About TheReadingRoom.com
TheReadingRoom.com is the leading independent online portal for avid readers to discover new books and – in the process – each other. By combining the power of social networking with carefully curated content, recommendations and featured selections, as well as the ability to buy eBooks and print titles in the U.S. (followed later by other parts of the world), readers can now discover books via TheReadingRoom.com in much the same way they have in the past: from people they know and trust.
With more than seven million book records, TheReadingRoom.com simplifies and personalizes the book selection process by providing readers with both social networking tools, private and public Book Clubs and curatorial expertise to help discover new titles through tailored suggestions. The site also provides reviews and expert critical analysis from the New York Times and The Guardian (London) as well as reviews from TheReadingRoom.com members and respected book bloggers.
Membership is free, so join us now at TheReadingRoom.com.