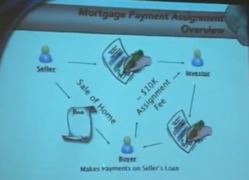 With this type of strategy, your goal as an investor should be to create a win-win-win strategy for all parties involved
Austin, Texas (PRWEB) June 11, 2013
Real estate coaching and mentoring expert Phill Grove releases report and video on the real estate investing strategy called Mortgage Assignments. This free report is located on his official real estate coaching site and can be accessed by clicking here.
Phill Grove preaches the importance of running a real estate investing business that is focused on solving the problems of its customers. Right now, the two biggest problems facing sellers and buyers are as follows:
1) Sellers with little, no or even negative equity wanting to sell their house fast without coming out of pocket to pay deficiencies or closing costs.
2) Buyers wanting to purchase a house but unable to qualify for a mortgage due to today's stringent lending policies.
The mortgage payments assignment program is designed to teach investors how to solve problems by selling these 'unsellable' houses to these 'unloanable' buyers at market value.
"With this type of strategy, your goal as an investor should be to create a win-win-win strategy for all parties involved," says Mr. Grove, the creator of the Assignment of Mortgage Payments System training program. "Utilizing mortgage assignments is really the only way to pair distressed buyers and sellers together while still profiting in your business."
In his report and video, Mr. Grove clearly explains how the assignment of mortgage payments system works as well as providing an example. To view this report, please visit http://realestatecoachingandmentoring.com/what-are-mortgage-assignments/
About Phill Grove: Phill Grove is a real estate coach, trainer, investor and national speaker as part of The Big Live Event Tour. Since December 2003, Phill Grove has participated in more than 1,200 real estate transactions totaling more than $200M. Mr Grove is 'strategically agnostic', meaning that rather than focusing on just one specific real estate strategy, he focuses on solving the problems of the buyers and sellers and using one of the 12 different ways to buy and sell properties to create a win-win solution.