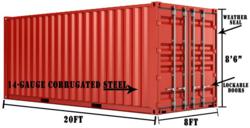 In addition to their unmatched quality and durability, the company's containers are offered with a low price guarantee.
TYLER, TEXAS (PRWEB) June 10, 2013
The devastating tornadoes that have pounded Oklahoma, Texas, Kansas, Missouri, and great portions of the Midwestern and Southern regions in recent months signal that there has never been a more crucial time for the installation of solid steel tornado shelters and safe rooms in areas prone to tornadoes and other destructive, killer weather events. Big Texas Containers & Shelters' custom constructed, seven-gauge hardened steel, modular tornado shelter safe rooms are engineered to offer protection that can save lives during tornadoes and high winds; they have been tested by Texas Tech to withstand tornadoes rated as high as EF5, such as the recent twisters that leveled much of More, Oklahoma.
The shelters also provide confident security from threats such as home invasion robbery emergencies. Big Texas, also one the nation's premier suppliers of shipping containers, equips its shelters and safe rooms with maximum protection vault style doors and provides the option of additional bullet-resistant interior paneling to its already bullet proof structures. The units' modular construction allows for do-it-yourself installation and provides versatility for installations in walk-in closets, basements, garages, wine cellars, or even upstairs without the need to tear down walls or re-construct.
Big Texas Containers & Shelters remains the foremost name in container suppliers in Texas and neighboring states with its wide variety of heavy-duty shipping containers, personalized customer service, and cost effective shipping rates to any location. Like its shelter safe rooms, the company's containers' quality, strength and durability are unmatched. Every cargo container is equipped with side-by-side entry doors on one end that are lined with custom weather stripping that makes the container wind and water tight as soon as the doors are closed and latched shut. The floors are lined with 1 1/8" specially treated marine plywood designed to withstand regular exposure to the elements while withstanding significant weight; the popular 20-foot models, for example, are designed to store up to 62,000 pounds of cargo.
Big Texas Containers & Shelters units are available in a variety of sizes available for immediate shipment throughout Texas and to neighboring states: premium used 20' standard cube, 40' standard cube, 40' high cube, 45' high cube, 48' high cube/wide, and 53' high cube/wide, which offers the maximum storage space available in any single portable storage container (it can fit three cars easily). Several other sizes can be purchased by special request, including hard-to-find sizes.
In addition to their unmatched quality and durability, the company's containers are offered with a low price guarantee. If another company offers a price lower than Big Texas Container & Shelter's quotation, they will not only match the price, but also add a discount of 10 percent or more of the difference off the purchase.
Big Texas Container and Shelter operates four Texas facilities: Tyler (903) 200-6017; Dallas (214) 814-1888; Houston (281) 809-6070; and Austin (512) 261-1917. Information call also be obtained by calling (800) 261-1917 or online at BigTexasContainers.com.