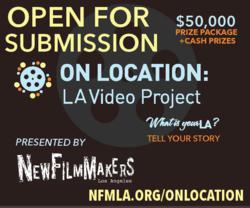 Los Angeles, CA (PRWEB) June 11, 2013
In partnership with the City of LA and LA Weekly, NewFilmmakers LA Film Festival announces the official call for entries for the 2013 On Location: The Los Angeles Video Project. In five minutes or less, filmmakers are invited to create narrative, documentary, commercial, or animated short films depicting their unique vision of the diverse, creative community that is Los Angeles. Filmmakers of all experience levels, from burgeoning film students, to cinema buffs and enthusiasts, to experienced directors, producers, actors, and writers, are welcome to participate.
The On Location program seeks to positively showcase each filmmakers view of Los Angeles to the rest of the world through short films created from an insiders perspective. Selected finalists will be screened during the 2013 On Location premiere event October 19th at the AT&T Center in Downtown LA, and featured through NewFilmmakers LA & LA Weekly's social media networks with a combined audience of over 200,000 viewers. Finalists will also compete for a variety of prizes, including cash prizes for two 1st Place & Audience Award winners, and a Grand Prize production/post package valued at $50,000 from Equilibrium Entertainment and Alternative Rentals, with an additional $1,000 cash prize. In total, the program offers over $52,500 in prizes.
During its inaugural year, On Location took place at the historic Sunset Gower Studios in Hollywood, the studio lot home to many hit shows including Showtime's "Dexter" and ABC's "Scandal" starring Kerry Washington. Year two marked the debut of On Location at the AT&T Center in Downtown LA with a powerhouse event featuring many special guests including Steven J. Wolfe (500 Days of Summer), Demian Lichtenstein (3000 Miles to Graceland), and Bokeem Woodbine (Total Recall). With his 4-minute short, "Los Angeles: Find Yourself", director Gregory J.M. Kasunich took home the Grand Prize during the 2012 On Location Program.
Participants and supporters for the 2013 On Location program include SAG-AFTRA, Film LA, Los Angeles Mayor-elect Eric Garcetti, LA City Councilmember Tom LaBonge, and Emmy Nominated Producer Debra Martin Chase (The Princess Diaries, Courage Under Fire, The Sisterhood of the Traveling Pants), among additional names to be announced.
Additional information regarding submission guidelines and categories can be found on the Official 2013 On Location website at http://newfilmmakersla.com/onlocation/. Entries must be received by September 7th, 2013 at 11:59PM.
NewFilmmakers Los Angeles (NFMLA) Film Fest is a non-profit organization designed to showcase innovative works by emerging filmmakers from around the world, providing the Los Angeles community of entertainment professionals and film goers with a constant surge of monthly screening events. NFMLA provides a forum where filmmakers can be recognized for their contributions, have open audience discussions about their projects and connect with industry professionals for insight on distribution, production, acquisition and representation.