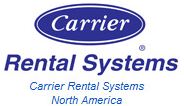 We want to work with each client to help solve their issue effectively rather than just treating a symptom.
Bridgeview, Illinois (PRWEB) June 11, 2013
Carrier has been the leading provider of rental heating, ventilating, air condition, and HVAC systems worldwide for several decades. As a business that never stops coming up with innovative contributions to the industry, they wanted to find a way to assist food processing companies – because as we all know, time without equipment is lost profit. As a result, they now provide rental cooling, heating, dehumidification, and power generation equipment to food service industries to decrease the loss of food and livestock.
This company has always known the importance of regulating the environments in commercial buildings, warehouses, schools, and other large-scale properties; many pieces of equipment and merchandise are reduced in value or even destroyed when there is no quality control. Food is one product that's extremely sensitive to temperature, humidity, and pests, so it was obvious that someone had to have the industry covered. When conditions aren't perfect, product gets lost which can be extremely expensive for the business – but when food is involved, improper storage is not just expensive, but also dangerous.
The equipment rental items offered by Carrier can solve temperature issues through their solutions for warehouse refrigeration, process cooling, environmental temperature control, and backup heating and cooling devices. There are moisture control and dehumidification products as well to help reduce the presence of condensation, mold, and mildew. Food industry companies can also look to Carrier for their pest control and backup power needs.
"We want to provide actual solutions to the problems rather than just giving our clients equipment," says Tremper Longman, Carrier Marketing Analyst. "We want to work with each client to help solve their issue effectively rather than just treating a symptom."
Carrier is a member of the United Technologies Corporation family and is headquartered out of Farmington, Connecticut. However, they operate in over 172 companies, making them the global name for equipment rentals. The company combines years of HVAC and refrigeration experience and expertise with a responsive team and innovative technology.