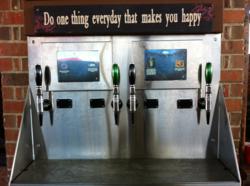 The reports that I can generate really help me understand trends, flavor introductions and demographics. These are all really helpful tools for us
Hattiesburg, MS (PRWEB) June 11, 2013
Georgia Blue has three stores in Mississippi and they pride themselves on being "unclassifiable". They serve everything from turnip greens to tamales and they do it better than most. The owner of Georgia Blue, Jason Ishee, decided to be the first establishment in Mississippi to offer self-serve beer almost a year ago when he installed four tables and a four tap beer wall on his patio in his Hattiesburg location.
As it turned out, the technology and company he spent his money with had a product with a number of unresolved technical issues and their support, or lack thereof, over the past 6 months had been wholly unacceptable. He researched the problem and found another company, pourmybeer.com, that makes a similar system using better technology and they have a 24/7 support team in place. He now has a fully functioning beer wall and a mobile draft beer table located at the newest of three Georgia Blue's in Flowood, MS.
"It has been a journey but the new pourmybeer system works effortlessly and their staff have been exemplary in making this transition smooth so that my team is professionally trained on how to use the system. Besides the system actually working we've noticed that our customers are commenting how much they like that we stuck with the concept despite all the issues we faced! Tenacity pays off" said JT - Hattiesburg GM.
"There are features on this system that we never had before. We can track loyalty and consumption data as well as set up rewards for regular customers so that we can market to the right people. The reports that I can generate really help me understand trends, flavor introductions and demographics. These are all really helpful tools for us," commented the owner. "For a while I was ready to just throw in the towel but we stuck with it, found the right partner and now we can move forward in more locations with the knowledge that the system works like they say it does and the company that sold it to me will support their product moving forward."
Josh Goodman, Pourmybeer co-founder & owner said, "There's nothing more frustrating than getting sold something that doesn't work the way it's supposed to. The only thing worse than that is when that company is not supporting the product on top of selling it to you in the first place! It damages the credibility of the concept as a whole when this is done. Our goal was to right a wrong and exceed Georgia Blues expectations with our upgrades. I feel we've done that and have established a mutually beneficial, long-term business relationship with them in the process. In the end that's what any business arrangement should be, an agreement where both parties win."
http://www.pourmybeer.com is an Innovative Tap Solutions Company. The company was formed in MD in 2008 and made the first commercial mobile self-serve beer tables in the US. It also sells and distributes fixed beer walls, mobile beer walls, fixed draft tables and mobile draft self-serve tables. All mobile equipment is made in the USA. Contact sales (at) pourmybeer (dot) com or call 215-219-9203/443-691-2337.