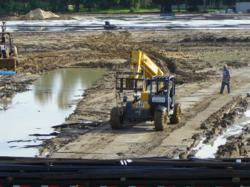 Williston, ND (PRWEB) June 13, 2013
Located in the middle of the Bakken geological formation is the city of Williston, North Dakota, a quaint town surrounded by a sprawling rural expanse. That was until 2008, when Williston became the epicenter of a still growing North Dakota oil boom. The quiet town of less than 13,000 quickly surpassed the 20,000 resident mark, with Business Insider estimates going as high as 30,000. Workers from across the country still flock for jobs, where starting salaries plus over-time on the oil field can rake in over $100k a year according to CNN.com.
In just 5 years time Williston, North Dakota has asserted itself as the new frontier in American oil production. Recent U.S. Energy Information Administration estimates put Bakken oil yields in North Dakota at over 650 thousand barrels a month, making it second only to Texas in productivity. This abundance is the driving force behind the magnitude of the Williston boom, and it's not just rig workers that are in demand. From school teachers, to crane operators, to doctors and retail associates, the growing city of Williston has employment opportunities around every corner.
Quality Mat Company of Beaumont Texas opened the third office in Killdeer, North Dakota to accommodate the growing industry it's already familiar with. As a company that specializes in the production of quality rig mats and crane mats, their familiarity with the oil industry is a welcome addition to the bustling commotion of Williston.
"Using oilfield mats and crane mats helps reduce the environmental impact of heavy equipment," says Quality Mat Company manager, Joe Penland Jr. "Because many of these sites are being built on open range land, it's important to take farm friendly precautions when preparing the sites."
The heavy timber crane stabilizer pads can be seen on rig sites such as those on the Bakken formation, helping crane operators keep a firm footing without causing irreversible damage to the land. Oilfield and bog mats can also be seen crisscrossing the remote ranges allowing big rigs to easily access drilling sites without getting stuck or forming deep ruts from their regular travel.
"We've learned a lot from working with farmers over the years," says Penland Jr., "While these people may be leasing their land to the oil companies, many of them still use it to plant or graze livestock. We need to do our best to protect their livelihood."
About Quality Mat Co.
Quality Mat Company is just one of the businesses helping to support the growing oil industry in the Williston Basin. Their products are integral part of the growing oil production in the region, and their use not only protects local farm land, but opens more opportunities for rig placement and oil production in the region, ensuring the ongoing success of North Dakota's oil industry.