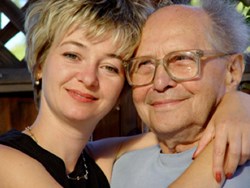 When shopping for the hard-to-buy-for dad, make it personal.
Neenah, Wis. (PRWEB) June 11, 2013
Father's Day is right around the corner, and the secret to making it special is to customize it with things he loves, according to Lynn Wilson, Founder of The CareGiver Partnership, a national retailer of home health care products.
"There is no match for spending quality time together; not even the perfect gift can do that. But when shopping for the hard-to-buy-for dad, make it personal," Wilson says. "At The CareGiver Partnership, we offer products that enhance dignity and normalcy, and that can be the ideal gift for the dad who's not quite as independent as he once was."
Wilson provides ideas for planning Dad's big day:

The best Father's Day celebrations are planned around his hobbies. Taking in a baseball game, golfing, or just grilling and relaxing in the back yard can make his day.
Both Dad and Mom might appreciate a day off from cooking. Inviting them over for a home-cooked meal of his favorite dishes, or a brunch or dinner served at a restaurant, is a relaxing alternative.
For dads who are a little less mobile and have less dexterity, a lightweight, portable folding reacher is ideal for use in any room of the home.
A memory book from the grandkids highlighting recent events and achievements is a great gift for grandparents who can't attend every sporting match or birthday party.
For the dad who likes to travel but needs a little help getting in and out of vehicles, the CarCaddie is a portable handle that easily is attached to a door frame.
Helping Dad document his legacy for future generations is a gift for the giver as well as the recipient. Legacy tools provide services that help Dad turn his personal and family history into keepsakes.
Sending Dad home with a plate of his favorite homemade treats is a great way to remind him all week how much he's loved.
For more great gift ideas, information on legacy tools and more, visit The CareGiver Partnership web site and blog.
The CareGiver Partnership is a national direct-to-consumer retailer of home healthcare products for incontinence, diabetes, nutrition support and more. In its sixth year of providing products and services that help caregivers and loved ones maintain personal dignity, the company also offers an online library of more than 1,200 family caregiver resources and personal service by experts in caregiving. Call 1-800-985-1353 or visit online at http://www.caregiverpartnership.com.