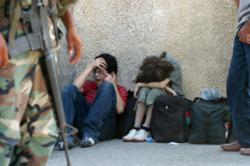 Of the 4,000 inhabitants of the village of Chassanieh, no more than 10 people remain.
(PRWEB) June 11, 2013
Christians caught in the Syrian civil war are in "grave danger," according to Fr. Pierbattista Pizzaballa, director of the Franciscan Custody of the Holy Land and Chairman of the Franciscan Foundation for the Holy Land.
The Franciscan Media Center now reports that Christian villages along the Orontes River have been almost totally destroyed in the fighting.
"Of the 4,000 inhabitants of the village of Ghassanieh, as just one example, the local pastor reports that no more than 10 people remain," Fr. Pizzaballa said, adding that bombs have seriously damaged the Franciscan monastery in Knayeh near the border with Lebanon.
"There is no longer any glass in the windows, the roofs have been damaged, water is leaking everywhere and people are in terror as the bombs continue to fall," he said.
Despite the danger, the Franciscan friars are remaining in the area and are doing everything they can to help the people caught in the fighting. Those who were unable to escape are in serious need of food and medicine.The Franciscans have issued an urgent appeal to the outside world for immediate assistance to help provide basic needs for the Syrian people.
"Everyone is doing all that is possible," Fr. Pizzaballa said, "but each day it becomes more difficult." Contributions should be limited to money, he said, pointing out that hard goods would not be allowed to enter the country.
Contributions can be made through the Franciscan Foundation for the Holy Land and earmarked for the Syrian Christians. http://www.ffhl.org