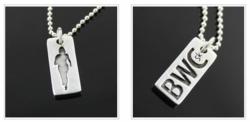 Inspired Endurance's affiliation with the Baltimore Women's Classic helps Women with Gynecological Cancer.
Baltimore, MD (PRWEB) June 11, 2013
Inspired Endurance, a premier provider of runners' jewelry for women, has just announced their affiliation with the BWC foundation, an organization focused on providing support for women battling gynecological cancer. Inspired Endurance is excited to be participating in this year's 5k event, which raises funds for BWC's philanthropic efforts while also raising awareness about women's health issues.
Inspired Endurance will be on location exhibiting at the Festival Village where their new BWC pendant will be available for purchase. The pendants commemorate the event, and $15 from the sale of each pendant will go directly to the BWC Foundation. The BWC pendant is also currently available online for those who won't be able to attend the race but would still like to support the organization.
The two-sided charm features the BWC 5k logo on one side and can be customized on the other. It measures 3/4" x 5/16" and is 2mm thick, fitting easily on most chains.
The BWC 5k will take place this year at 8am on June 23, 2013. The race will begin and end at Rash Field, and the full racecourse can be downloaded from the BWC race FAQ page. This is a women's only race, however there is a co-ed Kid's Fun Run starting at 9am.
In addition to raising funds for the foundation the 5k also serves to promote BWC's message of living a healthier lifestyle and raises awareness about women's health issues.
For the last ten years the BWC has been offering direct support to women and their families while they undergo treatment for gynecological cancer. They have raised thousands of dollars through their events, including the annual 5k. Their events are held throughout the year and enable the BWC to raise awareness about the illness, donate to leading cancer centers, and provide patient services such as transportation, grocery shopping, prescription drug co-payment, and meal preparation.
The foundation is based in Maryland, focusing much of their efforts on reducing the number of deaths from gynecological and ovarian cancer in the Baltimore area.
To learn more about the BWC pendant or any other pieces in the Inspired Endurance jewelry line, please visit http://www.inspiredendurance.com
About Inspired Endurance:
Inspired Endurance is encouraging and inspiring fellow runners to go the distance with unique jewelry that celebrates their accomplishments and goals. The company's elegant, expertly crafted 14kt gold and sterling silver jewelry is created using the Lost Wax Casting method and comes in a variety of designs to fit any athlete's style. As a premier provider of jewelry for runners, Inspired Endurance is continuously adding to its ever-growing selection, using their customers as inspiration to create the jewelry they want to wear.