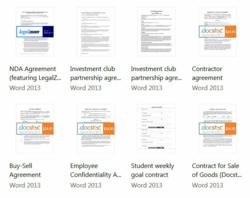 "Windward makes it easy to open an Office 2013 template and connect it to virtually any data source, whether it's SQL, an XML file, a spreadsheet or even less frequently used data sources such as OData & REST," said David Thielen, Windward Founder/CTO
Boulder, Colorado (PRWEB) June 11, 2013
Microsoft Gold Partner Windward, the expert in reporting, document generation and business intelligence software, has announced the release of AutoTag for Microsoft Office 2013 templates. AutoTag's document generation features will enable any Office 2013 user to connect their company data directly to the new Microsoft Word business templates, thereby completely automating the process of generating contracts, nondisclosure agreements, and other vital business documents.
AutoTag is a free-form design tool for creating the exact layout desired by allowing users to design, format and edit reports and documents completely in Microsoft Word and Excel. Users can connect their data to the complete set of Office 2013 templates, which carries more than 700 templates in the business category and more than 600 templates in the industry category.
"These new templates are not only bodaciously beautiful, they're extremely valuable," said David Thielen, Windward's founder and CTO. "Businesses will save boatloads of time because the bulk of the document design has already been done for them."
Document generation templates include:
•Mail merge letters. These have data insertion points for names, addresses, greetings and text, and they come in a variety of themes including equity theme, median theme, and urban theme.
•Contract for sale of goods. The contract template details seller and buyer information, terms of the deal, and quantity, description and price of the items sold.
•Nondisclosure agreement. A featured template from LegalZoom, the NDA covers an employee intellectual property and inventions assignment agreement. There are additional, general nondisclosure agreements as well.
•Services quote. Include your company logo, dates, descriptions and more in a template that will expand or contract to fit your data.
•Partnership agreement. The general partnership agreement is just one of the many templates available through Docstoc, an electronic document repository.
"Windward makes it super easy to open an Office 2013 template and connect it to virtually any data source, whether it's SQL, an XML file, a spreadsheet or even less frequently used data sources such as OData and REST," Thielen added. "Document generation has never been so easy."
For more information, please visit http://www.windward.net/document-generation.php
About Windward
Windward delivers powerful reporting, document generation and business intelligence solutions for enterprise or OEM use. Businesses worldwide create custom reports better, faster with data intelligence made easy. Windward has been delighting customers – technical and non – since 2004. http://www.windward.net
"This product is very well suited for our issue and I had no idea that something like this existed. I am glad we found Windward and I feel that it will really make a difference in our organization." – Stan