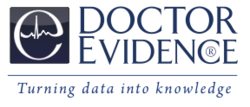 Doctor Evidence's 2012 success can be attributed both to the expansion of existing projects as well as the start of new initiatives with a varied list of clients
Santa Monica, CA (PRWEB) June 14, 2013
Doctor Evidence, LLC continued its multiple-year trend of sustained growth with sales bookings increased over 163% year-over-year from 2011 to 2012. Revenue growth represented an increase of 100% in the same period.
Doctor Evidence's 2012 success can be attributed both to the expansion of existing projects as well as the start of new initiatives with a varied list of clients, including academic groups, provider networks, managed care organizations, and nine of the top ten medical manufacturers (life science and device).
Among 2012 achievements was the continued collaboration between Doctor Evidence and distinguished healthcare organizations—such as Kaiser Permanente—on the development of the Guidelines Consortium, which enlists the capabilities of the Doctor Evidence product suite to create and share evidence-backed guidelines with colleagues all over the world. A wider rollout is planned for Q3 2013, with several large and prominent healthcare transformation systems joining the Doctor Evidence Guideline Consortium Network. The Guideline Consortium Network will be featured to a global audience of stakeholders at the upcoming Guidelines International Network (GIN) Conference in San Francisco, California in August 2013.
The past year also saw the launch and refinement of Doctor Evidence's groundbreaking DOC™ Label product, which enables clients in the regulatory affairs and labeling departments of institutions to save, search, and compare over 23,000 prescription drug labels and label versions from the FDA in minutes rather than the hours or even days a more traditional search would require.
About Doctor Evidence, LLC
Doctor Evidence is a specialty software platform and services company aimed to assist stakeholders across the healthcare ecosystem to make and inform clinical and business decisions with the most relevant medical evidence. The Doctor Evidence methodology uses a Digital Outcome Conversion (DOC™) approach of taking data from published clinical studies, FDA drug labels, and epidemiological databases to transform static data into reusable, dynamic relational databases. Our software platform empowers both public and private sector clients to identify the most relevant literature and conduct ready analyses with the highest level of transparency available for today's evidence-based medicine methodological standards in the pursuit of reducing healthcare costs while increasing the quality of patient outcomes.
Doctor Evidence serves decision makers in two large addressable market segments: Medical Manufacturers and Healthcare Providers for the ultimate wellbeing of patients. Doctor Evidence is helping to transform the healthcare ecosystem by identify the most efficacious and safe medical treatment on a comparative effectiveness basis, including related economic costs and total-cost-of-care analysis.