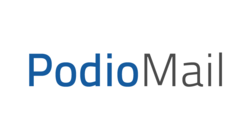 Calgary, AB (PRWEB) June 11, 2013
Globi Web Solutions is proud to announce the launch of their latest product: PodioMail, which allows full email integration with the Podio work platform.
Podio is an online work management platform, that makes it easy for smaller businesses to effectively and affordably have an online workspace to manage many business processes, including CRM, Project Management, Human Resources, and more. Podio's strength comes from it's simplicity and flexibility, allowing the user to create custom apps to manage almost any data.
Podio Email Integration
Although Podio is an excellent platform, it lacks serious email integration, which is essential when dealing with external customers. Globi Web Solutions created the PodioMail product to fill this need in the market.
PodioMail allows companies to have regular email-based conversations with their customers, and all messages will be logged inside their Podio Account for later reference by adding each email message as a comment to the relevant Podio item. PodioMail also assigns each Podio item a unique email address, allowing easy emailing of content into an individual app item.
The PodioMail.com website offers a 30 day free trial to allow users to try out the solution and see if it's a good fit. No credit card is required for the trial account, and there is no obligation.
For more information on PodioMail, visit http://www.podiomail.com or contact Andreas Huttenrauch directly at (403) 775-0580, or visit the main Globi Web Solutions Website at http://www.globi.ca/.