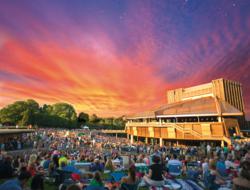 Vienna, Virginia (PRWEB) June 10, 2013
Steve Martin & The Steep Canyon Rangers
Featuring Edie Brickell
Monday, June 24, 2013 at 8 pm
$25-$45
Comedian, Emmy-winning actor, and musician Steve Martin makes his Filene Center debut with The Steep Canyon Rangers. Martin began playing the banjo at the age of 15 and has fostered a love of bluegrass music for more than 40 years. In 2009 his album, The Crow, received a Grammy, and in 2011 he and The Steep Canyon Rangers shared the award for Entertainer of the Year from the International Bluegrass Music Association.
The Steep Canyon Rangers have performed with Martin on Late Night with David Letterman, The Colbert Report, and at Austin City Limits. The band consists of Mike Guggino (mandolin/vocals), Charles Humphrey III (bass/vocals), Woody Platt (guitar/lead vocals), Nicky Sanders (fiddle), and Graham Sharp (banjo/vocals). In 2011 Steve Martin & The Steep Canyon Rangers released Rare Bird Alert, which debuted at No. 1 on Billboard's Bluegrass chart. Their most recent release is 2013's Love Has Come For You, featuring fellow musician Edie Brickell.
Video: Steve Martin & The Steep Canyon Rangers – Letterman (Live)
Edie Brickell, a singer/songwriter who initially gained fame and success with the pop/rock group the New Bohemians, is making her Filene Center debut. The band's 1989 debut album, Shooting Rubberbands at the Stars, sold more than 1 million copies and featured the hit single "What I Am." After the New Bohemians broke up, Brickell took a break from music and spent time with family and her husband, musician Paul Simon. In 1994 Brickell she resumed her successful solo career, releasing three albums. Most recently, she collaborated with Steve Martin & The Steep Canyon Rangers to release 2013's Love Has Come For You.
Video: Edie Brickell – Once In A Blue Moon (Live)
Counting Crows
Special Guest: The Wallflowers
Tuesday, June 25, 2013 at 7 pm
$35-$48
San Francisco-based band Counting Crows quickly gained fame in the early 1990s when they filled in for Van Morrison and performed at the Rock and Roll Hall of Fame. In 1993 they released their debut album, August and Everything After, which featured the No. 2 single "Mr. Jones." A few years later, their album Recovering the Satellites (1996) went platinum and spent 50 weeks on the Billboard chart, reaching No. 1 on the Billboard 200. In 2005 their single "Accidentally in Love" was featured on the Shrek 2 soundtrack and was nominated for a Grammy, Golden Globe, and Academy Award. In 2012 they released Underwater Sunshine (Or What We Did on Our Summer Vacation), a collection of 15 interpretive covers.
Video: Counting Crows – Rain King/Thunder Road (Live)
Roots/rock band The Wallflowers, which is fronted by singer/songwriter and guitarist Jakob Dylan, is making its Filene Center debut. The group is best known for their Grammy Award-winning album, Bringing Down the Horse (1996), which peaked at No. 4 on the Billboard 200 chart and featured the hit single "One Headlight." After a seven-year hiatus, the band most recently released Glad All Over (2012). In reference to the album, Rolling Stone said "[The Wall Flowers]…picked up where it left off: with sharp roots-rock songs full of sturdy hooks, deadpan jokes and pathos that sneaks up on you."
Video: The Wallflowers - Halo
Jerry Garcia Symphonic Celebration
Warren Haynes
Emil de Cou, conductor
Wednesday, June 26, 2013 at 8:15 pm
$22-$55
Making its Filene Center debut, the Jerry Garcia Symphonic Celebration honors the musical contributions of Grateful Dead founder, Jerry Garcia. In this new production, celebrated rock, blues, R&B, and jazz vocalist/guitarist Warren Haynes and the National Symphony Orchestra perform some of Garcia's best-known musical works.
Jerry Garcia (1942-1995) was a founding member, singer, songwriter, and lead guitarist of the Grateful Dead. "Deadheads" from all over appreciated Garcia's musical contributions, both as a member of the Grateful Dead, but also for his work with the Jerry Garcia Band, Old and in the Way, Legion of Mary, Garcia/Grisman, and projects with Merl Saunders.
Warren Haynes is considered to be one of the best rock music guitarists in history. He has recorded or performed with many renowned musicians, including Phil Lesh & Friends, James Hetfield, Bob Dylan, John Lee Hooker, Eric Clapton, Bonnie Raitt, Dave Matthews, and B.B. King. Haynes is perhaps best known for his work with The Allman Brothers Band, Gov't Mule, and the Grateful Dead.
The Temptations
The Four Tops
Thursday, June 27, 2013 at 8 pm
$25-$40
Dubbed by Billboard as the "definitive vocal group of the 1960s," The Temptations bring their distinctive Motown sound to the Filene Center. With numerous top 10 hits, including "Can't Get Next to You," "Just My Imagination," and "Papa Was a Rolling Stone," they are also known for their 1965 iconic No. 1 hit, "My Girl." In 2010 The Tempatations released their 49th album, Still Here.
Motown superstars The Four Tops are the recipients of the 2009 Grammy Lifetime Achievement Award. Their many chart-topping hits include "Baby I Need Your Loving," "Bernadette," "I Can't Help Myself (Sugar Pie, Honey Bunch)," and "Reach Out, I'll Be There." In 1990 The Four Tops were inducted into the Rock and Roll Hall of Fame.
Video: The Temptations and The Four Tops – The Temptations vs. The Four Tops
Frozen Planet in Concert
George Fenton, conductor
HUGE SCREENS – House and Lawn
Friday, June 28, 2013 at 8:30 pm
$22-$55
Stunning, family-friendly images of frozen wilderness and Arctic and Antarctic wildlife, including penguins and whales, adorn huge screens in-house and on the lawn during Frozen Planet in Concert at the Filene Center. Along with the images, the National Symphony Orchestra performs an original score, both composed and conducted by Emmy Award-winning, Oscar nominee George Fenton. This production showcases the final documentary of the BBC Earth series that set viewership records on the Discovery Channel.
George Fenton won the Emmy Award for Outstanding Music Composition for a Series for Planet Earth (2006) and is the recipient of countless other awards. He is best known for his work in television and film and is considered one of the UK's most successful composers. Fenton has scored more than 100 films, including multiple nature documentaries for the BBC.
Video: Frozen Planet in Concert
Anita Baker
Saturday, June 29, 2013 at 8 pm
$25-$48
R&B superstar Anita Baker returns to the Filene Center to showcase her distinctive voice that continues to charm fans. Raised in Detroit, Baker began her career by singing soul music. She is an eight-time Grammy winner whose biggest hits include "Sweet Love," "Giving You the Best That I Got," and "I Apologize." Her forthcoming album, Only Forever, is scheduled to be released later this year and includes the Grammy-nominated single "Lately."
Straight No Chaser
Sunday, June 30, 2013 at 8 pm
$25-$42
Straight No Chaser (SNC) is not your average a cappella group. SNC has multiple hit albums, including With a Twist (2010) and two holiday albums. This all-male singing sensation is well-known for their original, catchy arrangements and medleys of pop songs ranging from Lady Gaga to boy bands of the 1990s. Originally founded in 1996 at Indiana University by a group of 10 friends, Straight No Chaser was the school's only all-male a cappella group. In 2007 Straight No Chaser became a YouTube sensation, which led to them being discovered and signed to a record deal by the CEO of Atlantic Records. They recently released Under the Influence in May, which features covers of "Rolling in the Deep" and "Hallelujah."
Video: Straight No Chaser – 2000s Medley
Tickets can be purchased by calling 1 (877) WOLFTRAP or online at http://www.wolftrap.org. For more information, call Wolf Trap at (703) 255-1868.
High-resolution images of the artists listed are available on Wolf Trap's website: http://www.wolftrap.org/Media_and_Newsroom/Photos_for_Publication.aspx.
Wolf Trap is Metro accessible!
Our environmentally friendly Wolf Trap Express Bus travels from the West Falls Church Metro stop every 20 minutes starting two hours prior to show time. For details, please visit http://www.wolftrap.org/Plan_Your_Visit/Access_by_Metro.aspx.
###