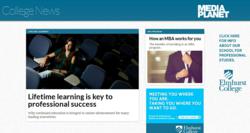 No matter what career path you select, lifetime learning remains the key to a successful career
New York, NY (PRWEB) June 11, 2013
A new digital platform has launched to unveil the top up-and-coming career fields and the importance of lifetime learning. The platform, created by Mediaplanet in collaboration with Elmhurst College, gives valuable tips on how to take your education and career to the next level.
Click to access the full digital campaign: College News.
Recent technological developments are creating an array of new job possibilities, varying from careers in healthcare to jobs in social media. In particular, careers in healthcare are profiting from the technologic advancement, as new skilled jobs are sprouting in this sector. New career opportunities develop every day, broadening the areas of study that are possible for undergraduate and graduate students.
No matter what career path you select, however, lifetime learning remains the key to a successful career. Nowadays, employers are looking for people who are willing and able to grow within a job and take their skills to the next level. In a competitive workforce, employees should constantly improve themselves by honing their individual skill sets. This is made easy by the increasing options and flexibility offered by colleges and universities nationwide. Elmhurst College, for example, offers its students the possibility to return every year to take an additional course, in order to keep their degree current.
Some people might be hesitant to go back to school, feeling that they are "too old" for college; however, many schools, including Elmhurst College, accommodate and support adults that wish to continue or start their education. These schools offer online courses that are easy to follow and that are just as enriching as regular lectures.
Continued education can have a tremendous impact on your career: According to a 2011 study published by The EvoLLLution: "78 percent of employers said ongoing education has a positive impact on career advancement and 87 percent said educational attainment positively affects compensation and salary." This means that workers who do not continue educating themselves throughout their career are at a significant disadvantage when it comes to future promotions and increases in salary.
Mediaplanet publishes focused print and digital campaigns on specific business, healthcare, technology or consumer topics.