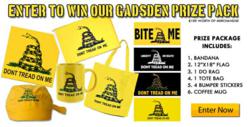 In December 2012, we had around 833 "likes" on Facebook. Since the monthly contests were added to our advertising strategy our "likes" on Facebook have grown to more than 1200.
Little Rock, AR (PRWEB) June 25, 2013
Since Christmas 2012, FlagandBanner.com has run a monthly contest on their website, on Facebook and in their showroom. Each month they have offered a different product to appeal to a broad audience among their various customers which include both businesses and consumers.
The current contest is a judged decorating contest, where Facebook fans will choose the winner.
Other recent contests have been a patriotic gift basket worth $150, won by Sue in Missouri and on Flag Day an onsite Flag Retirement event at their showroom offered a random drawing to attendees to win a free flag and flag pole. Janet of Roland, Arkansas won that prize.
According to advertising research, many consumers see advertising as an annoyance but they look at contests differently, Kerry McCoy owner and president of FlagandBanner.com tends to agree. "Originally the contests were a way to grow our Facebook fan base. In December 2012, we had around 833 "likes" on Facebook. Since the monthly contests were added to our advertising strategy our "likes" on Facebook have grown to more than 1200. While this is not a huge number it is an improvement and has helped to improve our interaction with customers on our Facebook page. It makes us look more approachable to our customers, which is always a good thing."
When running a contest, businesses have to follow certain rules and regulations but they are relatively simple. All contest and promotional games must clearly and conspicuously disclose each of the following:

All the rules, regulations, terms and conditions of the contest itself
The maximum number of puzzles or games that may be necessary to complete the contest and determine winners
The maximum amount of money, including postage and handling fees, which a participant may be asked to pay to win each of the prizes offered
The date(s) the contest will end, and the date(s) when all prizes will be awarded
The exact nature and approximate value of prizes must be disclosed clearly and conspicuously when they are offered
Misrepresenting in any manner the odds of winning any prize is prohibited
All prizes of the value and type represented must be awarded and distributed
FlagandBanner.com requires entrants to agree to be part of their mailing list but does not require payment nor do they require entrants stay on the mail list. The mail list does provide opportunities for future contests, discounts, online coupons and flag alerts for half staff days so many enjoy being a part of the mailings. FlagandBanner.com does not sell their mail list or share it with other entities and they tend to send around 5 to 8 e-mail "blasts" per month.
Contest winners have been very positive about the products they have received and the company has gotten many letters from their winners about the quality or products they have received. Winner Mark M., said he loved his patriotic flagpole kit he won that was almost a $200 value, and Jeff who won the Gadsden contest wrote to say, "Wow! I don't think I've ever won anything like this. I just wanted to write and say thank you!"
FlagandBanner.com's first winner, Pamela won a handmade patriotic Christmas wreath showcasing patriotic Christmas ornaments. She has been a very active member on FlagandBanner.com's Facebook since winning and often shares FlagandBanner.com posts with her Facebook friends. These Social Media interactions get customers to share with their friends and provide old fashioned word of mouth advertising, one of the best forms of advertising a business can get.
Businesses and consumers are encouraged to call FlagandBanner.com Flag Experts at 1-800-445-0653 to answer flag display questions and things such as what size flag should fit their pole and so on. Etiquette and other information can be found on their website: FlagandBanner.com where they are more than just a flag store; they are Flag Experts with more than 38 years in the flag business.