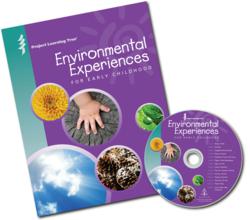 Project Learning Tree helps the youngest of learners interact with nature and the world around them through approaches that are developmentally appropriate – and fun!
Washington (PRWEB) June 10, 2013
Project Learning Tree® Environmental Experiences for Early Childhood curriculum has been selected as one of 100 leading sustainable solutions by Sustainia, an international institute based in Denmark that identifies the most innovative and impactful projects from around the world that are leading the way for a faster transformation to a sustainable future. The solutions are selected for their environmental, social, and economic approaches towards sustainability, and for their potential to scale up across markets and societies.
Project Learning Tree, a program of the American Forest Foundation, trains teachers to incorporate environmental education into school curricula. Pupils grow up to become better-informed adult consumers who are conscious about their own lifestyles and practices. In addition, taking children outside regularly to explore nature increases physical activity and improves performance at school.
Sustainia has acknowledged PLT's Early Childhood program for engaging young children in outdoor exploration and play – a solution that helps future generations understand and value the environment while adopting a more active lifestyle. PLT connects children to nature, develops critical-thinking, and encourages students to take action to improve their environment.
Studies show that American children aged 3-12 spend only 1% of their time outdoors.
"Too much time spent inside is contributing to obesity, attention problems, hyperactivity, and lack of appreciation for the earth's resources," said Kathy McGlauflin, Director of Project Learning Tree and Senior Vice President for Education at the American Forest Foundation. "Project Learning Tree helps the youngest of learners interact with nature and the world around them through approaches that are developmentally appropriate – and fun!"
PLT's Early Childhood materials are made available to educators through professional development workshops held every year across the United States and internationally, most notably in Mexico and Japan where the materials have been translated into Spanish and Japanese respectively.
PLT's Environmental Experiences for Early Childhood was recognized at the SUSTAINIA100 launch event in London on June 9. Arnold Schwarzenegger, Former Governor of California and Honorary Chair of Sustainia, had the following to say about the group selected this year, "Congratulations to the SUSTAINIA100 for 2013. They are the true action heroes of sustainability. From Canada to Kenya to Guatemala to India, these solutions are proving that we can build communities that are both environmentally and economically sustainable today and for generations to come."
Each year, Sustainia's research team and an independent advisory board identify innovative, sustainable solutions across ten key sectors, spanning energy and transportation to fashion, food, health and education. This year they vetted over 1,000, selecting the top 100 that are being successfully deployed in 128 countries. These 100 solutions are published in the SUSTAINIA100 guide, a tool for investors, business leaders, decision makers, and consumers that provides insights to the most promising solutions at the forefront of sustainable transformation.
On November 7, 2013 at a ceremony in Copenhagen, one solution from the list of 100 will be selected to receive the SUSTAINIA Award, an annual international award that honors outstanding performance within sustainability. Governor Schwarzenegger heads the selection committee that also includes former Prime Minister Gro Harlem Brundtland, EU Commissioner of Climate Action Connie Hedegaard, and Chair of the UN climate panel, IPCC, Dr. Rajendra K. Pachauri. Ten finalists for the SUSTAINIA Award will also be presented to world business leaders and politicians during the United Nations General Assembly in New York in September.
Developed for children aged 3-6, PLT's Environmental Experience for Early Childhood guide provides educators, youth group leaders, child care providers, and parents with more than 130 activities to engage children in outdoor exploration and play. The activities integrate art, literature, math, music, and movement. Topics include exploring nature with five senses and experiencing trees through the seasons.
About Project Learning Tree
Project Learning Tree® (PLT) uses trees and forests as windows on the world to increase students' understanding of the environment and actions they can take to improve it. PLT provides educators with curriculum, professional development, and resources to integrate environmental education into lesson plans for all grades and subject areas, and to use the outdoors to engage students in learning about the world around them. PLT teaches students how to think, not what to think about complex environmental issues, and helps them acquire the skills they need to make informed choices about the environment. For more information, visit http://www.plt.org.