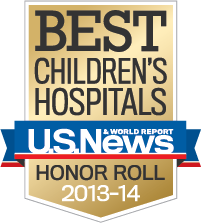 Philadelphia, PA (PRWEB) June 11, 2013
The Children's Hospital of Philadelphia (CHOP) earned the number one ranking in the 2013-14 U.S. News & World Report Honor Roll of Best Children's Hospitals announced today. In addition to the Honor Roll ranking, CHOP programs ranked within the top four in each of the ten specialty areas evaluated in the U.S. News survey.
The annual U.S. News rankings highlight the top 50 U.S. hospitals in each of these pediatric specialties: cancer, cardiology & heart surgery, diabetes & endocrinology, gastroenterology & GI surgery, neonatology, nephrology, neurology & neurosurgery, orthopedics, pulmonology, and urology.
"We are humbled to be recognized again by U.S. News and World Report with a number one ranking among the nation's children's hospitals. This recognition is a tribute to the exceptional work of our staff and their tireless dedication to our patients," said Steven M. Altschuler, MD, chief executive officer of The Children's Hospital of Philadelphia. "As we mark this important milestone, it's an opportunity to renew our commitment to improve the health of the children who enter our doors, as well as those across the country or the world whom we may never meet."
"The Children's Hospital of Philadelphia deserves high praise," said Health Rankings Editor Avery Comarow. "Ranking shows the dedication and expertise that CHOP brings to the care of children who need those qualities the most. We think it is important to identify and call attention to pediatric centers like this one."
The U.S. News survey methodology combines clinical data points from 179 pediatric centers with a separate reputational score derived from a survey in which 1,500 pediatric specialists – 150 in each specialty – were asked to which hospital they would send the sickest children. For more information about CHOP's rankings please visit http://www.chop.edu/about/best-in-the-nation/us-news-world-report.html.
The full rankings and methodology are available at http://health.usnews.com/best-hospitals/pediatric-rankings. The rankings will also be published in the U.S. News Best Hospitals 2014 guidebook, which will be available in August.
About The Children's Hospital of Philadelphia
The Children's Hospital of Philadelphia was founded in 1855 as the nation's first pediatric hospital. Through its long-standing commitment to providing exceptional patient care, training new generations of pediatric healthcare professionals and pioneering major research initiatives, Children's Hospital has fostered many discoveries that have benefited children worldwide. Its pediatric research program receives the highest amount of National Institutes of Health funding among all U.S. children's hospitals. In addition, its unique family-centered care and public service programs have brought the 516-bed hospital recognition as a leading advocate for children and adolescents. For more information, visit http://www.chop.edu.