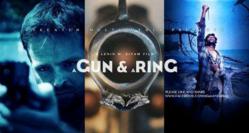 Canada back for the 16th Shanghai International Film Festival with nine films, including two in official competition.
Toronto, Ontario (PRWEB) June 10, 2013
Eyecatch Multimedia Inc announce that emerging Canadian filmmaker Lenin M. Sivam's new feature, A Gun & A Ring, is set to make its world debut as an Official Selection at the 16th annual Shanghai International Film Festival (SIFF) on June 19, 2013.
The much-anticipated second feature film from Sivam uses brilliantly interwoven montage of characters to explore the harsh realities faced by different generations of Tamil Canadians who try to re-build their lives in an adopted land but are unable to let go of their past framed by violence, death and conflict in Sri Lanka.
Selected from more than 1,600 movies from over 100 countries and regions, A Gun & A Ring is also one of 12 films in the running for the prestigious Golden Goblet Award, the highest prize awarded at the festival.
"To be officially selected for a major festival such as the SIFF and to be nominated for the award is an important recognition of our work and vision," said Sivam. "Everyone who worked on it volunteered their time and resources since they were passionate about sharing this story."
A Gun & A Ring follows Sivam's critically acclaimed debut film, 1999, which was named as one of the Top 10 Canadian Films at the 2009 Vancouver International Film Festival and won the much-coveted Audience Choice Award at the 2010 ReelWorld Film Festival.
The SIFF, founded in 1993, is China's only competitive international film festival accredited by the International Federation of Film Producers Associations.
Eyecatch Multimedia Inc. is a Toronto-based indie film production company founded by young entrepreneur, Vishnu Muralee.