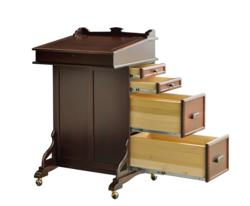 Back in 1770 Thomas Jefferson wrote the Declaration of Independence at a stand-up desk he himself made.
Akron, Ohio (PRWEB) June 11, 2013
For some office workers, sitting at a desk all day makes concentration difficult, and creativity nearly impossible. Until now, a worker's best escape included ducking out of the office whenever possible. A better option from Ohio's Amish Country Furniture Sales brings back a productivity tool from colonial times in America.
"Back in 1770 Thomas Jefferson wrote the Declaration of Independence at a stand up desk he himself made," explains Akron, Ohio businessman Jim Gattuso. "I became interested in stand up desks because of my chronic back pain, and I thought who better to help me bring back this great productivity tool than Amish woodworkers whose furniture-making craftsmanship dates back to colonial times."
Captain's Desk: http://www.standupdesks.com/images//products/m34_01.jpg
According to leading authorities on ergonomics and back pain, most people can work better and longer in a standing position. It helps them to be able to shift their hips or move from side to side.
All stand up desks from Amish Country Furniture Sales at StandUpDesks.com are hand crafted to order, with not only the desk height customized, but also the width (up to 8 feet wide), style, type of wood (oak, cherry, mahogany), stain, and other options. The company offers 36 models that include computer desks, writing desks, drafting desks, and even a folding field desk modeled after those used in the Battle of Gettysburg.
Field Desk: http://www.xpresspress.com/images/field-desk1.JPG
Other custom styles range from Colonial to Mission to Deco. These beautifully crafted desks are perfect for historic homes and can be finished to match period interiors.
StandUpDesks.com also offers the only full-size Sit-Stand Executive desk on the market. The Sit-Stand Executive is a true executive desk that is up to 8 feet wide and up to 36 inches deep. It has a full set of filing drawers and regular drawers only this desk, with the push of a button, elevates from 30 inches up to 49 inches—an especially convenient feature for tall gentlemen and ladies.
"Stand up desks devotees include CEOs, computer programmers, attorneys, bankers, and writers. We have even placed desks in The White House," adds Jim Gattuso.
Amish Country Furniture Sales stand up desk styles and options can be seen at http://www.standupdesks.com or by calling toll-free 1-888-384-7883.