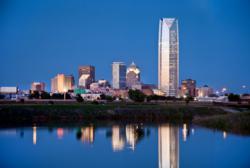 "When we started this project, we intended for it to have a positive impact on our business and the greater Oklahoma City community, and we are pleased to report our new headquarters has exceeded expectations." John Richels, Devon's president and CEO
New Haven, CT (PRWEB) June 12, 2013
Architectural Record magazine has announced that Devon Energy and Pickard Chilton have been awarded a prestigious 2013 Architectural Record Good Design is Good Business Award for Devon Energy Center in Oklahoma City. It is the second such award for Pickard Chilton in as many years.
Hines, the international real estate investment, development and management firm as well as recipient of Architectural Record's 2013 Good Design Is Good Business Lifetime Achievement Award for its patronage of architecture, served as Development Manager for the project.
Completed in 2012, Devon Energy Center consolidates Devon's Oklahoma City–based workforce into a single state-of-the-art LEED-Gold facility. Comprising an office tower, a six-story glass entrance rotunda, a six-story podium, a freestanding 300-seat auditorium, and a ten-level garage, the development integrates civic-scaled spaces and a significant landscaped public park. Rising fifty floors, the tower creates a focal point for the company and Oklahoma City.
"We are deeply honored to have our design for the Devon Energy Center recognized with this prestigious award," said Jon Pickard FAIA, RIBA Principal of Pickard Chilton. "More importantly, it confirms that the team successfully achieved Devon's expectations and provided them with a new home that will sustainably support their business and employees for many years to come."
In its 16th year, the Architectural Record Good Design is Good Business Awards program (formerly known as the BusinessWeek/Architectural Record Awards) honors architects and clients whose projects demonstrate innovative architectural strategies that help businesses achieve specific goals.
"Winning a second Good Design is Good Business Award is particularly meaningful," said firm Principal William Chilton FAIA, RIBA "as it reaffirms that the team's design approach of serving clients at the highest possible level produces measureable results in support of their short- and long-term business strategies."
The jury, comprised of Architectural Record editorial staff members, reviewed dozens of submissions from around the world and evaluated the success of each project based on a series of quantitative and qualitative measurements of building performance. Factors considered included employee productivity, recruitment, and branding, among other criteria. Twelve winning projects were noted for their clarity of vision—on the part of both the architects and their clients—with each sustainable project going well beyond the bottom line and demonstrating the far-reaching benefits of good architectural design.
"When we started this project, we intended for it to have a positive impact on our business and the greater Oklahoma City community, and we are pleased to report our new headquarters has exceeded expectations," said John Richels, Devon's president and CEO. "Appropriately, the Good Design is Good Business Award recognizes the powerful results of a meaningful and respectful collaboration of client, city, development manager and architect."
Devon Energy Center, and other winning projects, are featured in the June 2013 issue of Architectural Record and is also featured on the Architectural Record web site and in the iPad edition.
ABOUT PICKARD CHILTON
Pickard Chilton is an international architectural practice noted for its expertise in the design of large, complex buildings including corporate headquarters, high rise commercial office towers, hotels, and academic and health care facilities. Headquartered in New Haven, Conn., the firm's completed projects include: Eaton Center in Cleveland; 1180 Peachtree in Atlanta; Eighth Avenue Place in Calgary; and 300 North LaSalle in Chicago. Current projects include the ExxonMobil Office Complex in Houston as well commercial developments in Washington, DC, Calgary, and Kuala Lumpur. Visit http://www.pickardchilton.com for more information.
ABOUT DEVON ENERGY CORPORATION
Devon Energy Corporation is an Oklahoma City–based independent energy company engaged in oil and gas exploration and production. Devon is a leading U.S.-based independent oil and gas producer and is included in the S&P 500 Index. For additional information, visit http://www.devonenergy.com.
ABOUT HINES
Hines is a privately owned real estate firm involved in real estate investment, development and property management worldwide. The firm's historical and current portfolio of projects that are underway, completed, acquired and managed for third parties includes 1,273 properties representing more than 514 million square feet of office, residential, mixed-use, industrial, hotel, medical and sports facilities, as well as large, master-planned communities and land developments. Currently, Hines manages 406 properties totaling 148.5 million square feet, which includes 78.3 million square feet for third parties. With offices in 113 cities in 18 countries, and controlled assets valued at approximately $24.3 billion, Hines is one of the largest real estate organizations in the world. Hines is also a world leader in sustainable real estate strategies, with extensive experience in LEED®, ENERGY STAR®, BREEAM, Haute Qualité Environnementale and DGNB green building rating systems. Visit http://www.hines.com for more information.
# # #