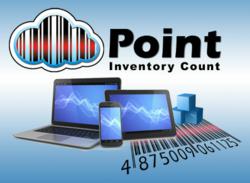 Point is designed as an economical, next generation inventory tool
Portland, OR (PRWEB) June 18, 2013
Point is an inventory management solution designed to capture and analyze, report and post inventory count data to your point of sale or other line of business application via Control Point in the cloud. The Point system turns smart phones and tablets into intelligent counting devices for barcode scanning and point of sale updates to a central management interface the Control Point. This interface enables users to manage counting devices, make inventory exceptions and corrections, run reports, and update inventory easily and efficiently.

Platform - Designed for Android and iOS devices
Control Point - Multiple device internet support hub
Provisioning - Easily add new devices on demand
Custom Scopes - User definable & assignable
Rapid Sync - Analyze real time cloud data
Merge Count - Merge count data
POS/ERP - Line of business applications adapters
Voice Activated - Control and search
"Point is designed as an economical, next generation inventory tool for retailers to count quickly and manage with precision. We work with store owners and managers every day and designed Point Inventory to include features we know retailers need," explains Dan King, President and CEO of New West Technologies, Inc.
Features that users of the Point system will appreciate include rapid sync technology which provides real time data sync to the online system, a simple yet elegant user interface with intuitive workflow navigation, custom scope counting with cycle counting capability, and a data connector for Microsoft Dynamics RMS and export compatibility with many POS and ERP systems – including and Quickbooks.
The app can be found on the Google Play store here. For more information about the Point mobile inventory system, visit http://www.getpointmobile.
About New West
Founded in 1992 in Portland, Oregon, New West Technologies is a leading integrator of retail POS software solutions and Microsoft Dynamics Retail products. As a full-service technology provider with extensive experience in small business computer networking and retail software development and installation, we deliver easy-to-use, practical solutions that dramatically improve your profitability and workflow management. http://www.newestech.com