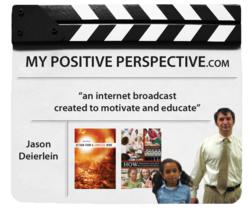 Take it to the Streets provides extracurricular activities children otherwise would not have
Charleston, SC (PRWEB) June 11, 2013
On June 10, 2013, My Positive Perspective host Jason Deierlein sat down with Jesse Williams, founder of the group Take it to the Streets as they discussed how to help children and adults overcome obstacles in strengthening their relationships. Williams founded the group Take it to the Streets to provide an easy way for parents and children to interact and share knowledge about positive subjects occurring in the community.
Deierlein began the episode by sharing the knowledge he gained from speaking at school symposiums. Deierlein said, "I do not think children feel safe when they are at home, and we know that unless this need is fulfilled, it will be extremely difficult for children to concentrate on their process of gaining an education." Williams' responses to this was, "It not possible to be able to guarantee this for good, however, what we can do is show the parents and children what a good example of the benefits of having a good relationship with various members in our community is."
When Deierlein asked Williams about what some potential activities they provide for the children, Williams said, "We try to provide extracurricular activities for the kids that they otherwise would not have. We like to take them bowling, or playing sports such as basketball."
The episode was concluded by Deierlein noting that My Positive Perspective is in full agreement with the mission and causes of Take it to the Streets. The organization's website was given by Williams in saying, "The website where people can go to help is takeittothestreets.org"
My Positive Perspective is a media outlet believing that improvement in our community will be best achieved by focusing on the good things happening in our world today. Having survived a near fatal car accident as a youth, a shift of perception forced one to have a mentality of always concentrating on the brighter sides of things. This was true, and in my book, Return From a Comatose Mind, this belief was put to the test. Appreciation for life was the biggest thing one took away from my brush with death, and it is because of that gives me such a huge desire to be helpful to many. My Positive Perspective is a way of overcoming challenges.