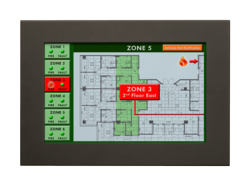 The 10" smart display is suitable for dual use as a building directory display, which then switches to emergency mode during a fire or other mass notification event," said Steve Schott, President.
Medfield, MA (PRWEB) June 11, 2013
Comark's new 10" Smart Display is a rugged and secured solution to meet building automation requirements. This high performance, lower power 10" computer comes standard with Dual Core ARM CPU processing, 24VDC and Power Over Ethernet (PoE) capabilities, which allows for quick and easy installation and ongoing maintenance. These smart displays also come standard with resistive touchscreens and offer multiple operating system options, including Linux and Android, locally resident or Network Bootable (PXE). Mounting options include on-wall, in-wall or within a fire panel. The product is available immediately, with UL864 approval expected by Q3 2013. For more information on PoE smart displays and other building automation solutions, please view Comark's website.