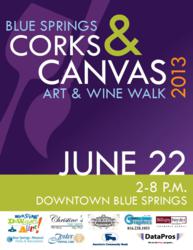 The team at Foster Dental Care created a list of tips to help patients who enjoy red wine a way to rid their smiles of 'tannin teeth' or 'Malbec mouth'.
Blue Springs, Missouri (PRWEB) June 12, 2013
Main Street will be transformed into a miniature gallery between 2 to 8pm on Saturday, June 22nd, at the upcoming Blue Springs Corks and Canvas Art and Wine Walk.
As supporters of the revitalization of the downtown area, Foster Dental Care, a Blue Springs dental practice, is eager to participate in this social event for the second year in a row. Featuring local artists and Missouri wineries, some might find a dental practice to be an odd fit for the cultural occasion.
In 2010 the American Dental Association released a news update indicating that the red wine individuals enjoy for heart health can also keep your mouth healthy by inhibiting tooth decay and gum disease. This study prompted the team at Foster Dental Care to create a list of tips to help patients who enjoy red wine a way to rid their smiles of 'tannin teeth' or 'Malbec mouth', a condition some people experience after sipping on wine for any amount of time resulting in a discoloration of teeth. Some of those tips include swishing with Seltzer water and eating cheese or crudités.
"We recommend eating hard cheese that will help coat your teeth with calcium which is a big help in preventing discoloration from red wine consumption," says Alan Foster DDS, owner/dentist at Foster Dental Care. "Another option is to enjoy vegetables like broccoli and celery. With fibers that act as a natural scrub for teeth, they are excellent foods for your oral health."
As the wineries at Corks and Canvas provide samples of their libations, Foster Dental Care will be sharing these tips and more at their display tent. Also, the Foster Dental Care team will have fun products to help whiten and brighten smiles on the go, will hand out free toothbrushes and will host a raffle for a customized teeth whitening kit.
About Foster Dental Care:
Foster Dental Care is dedicated to comfort and prompt attention while creating healthy, beautiful smiles and building lasting relationships with their patients. It is their goal to make patients feel satisfied with their smile. For over 30 years Dr. Alan Foster and the Team at Foster Dental Care have been working with patients to provide the best cosmetic and general dentistry. To learn more, please visit http://www.FosterDentalCare.com.