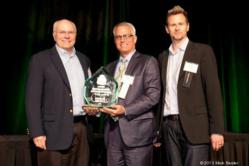 CNBS helps its customers optimize their processes against SAP ERP
Cincinnati, OH (PRWEB) June 10, 2013
ConsultingNetwork Business Solutions, LLC (CNBS), an emerging leader of SAP add-ons for eCommerce, CRM and Mobility, was named Greater Cincinnati Region's fastest growing company in the $1M-$5M revenue category at the Business Courier Fast 55 Awards ceremony, held June 6, 2013.
CNBS was recognized for growth over the 2010-2012 period, growth that would not have been possible "without a tight focus on quality" according to Glenn Bitzenhofer, COO and Co-founder. "We decided early on to provide only the best software delivered using the best people in the business."
"CNBS helps its customers optimize their processes against SAP ERP," said Schlechter, President and Co-Founder. "We are honored to be recognized by our community for our achievements during the past three years, and we thank our employees for their hard work and commitment to exceeding customer expectations."
Established by the Business Courier nine years ago, the annual Fast 55 awards represent Greater Cincinnati's premier program for recognizing the 17-county region's fastest-growing private companies.
About CNBS
As a leader in mid-market eCommerce and CRM solutions for SAP ERP installations, CNBS is uniquely focused on helping companies grow the value of their customer relationships and deliver consistent customer experiences across all sales and service channels. Every day, our solutions help our clients meet the demands of increasing revenue, improving customer satisfaction, and reducing overall cost. Our feature-rich solutions bring state-of-the-art capability to mobile platforms, web portals and agent workstations. CNBS software works directly with existing SAP systems, avoiding cumbersome and costly interfaces or replication of data.
Visit CNBSsoftware.com for more information.
©2013 ConsultingNetwork Business Solutions, LLC
SAP® is a registered trademark of SAP AG.
ConsultingNetwork Business Solutions LLC is not affiliated with SAP AG.