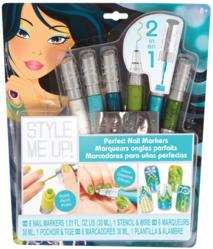 Our extensive selection of age-appropriate fashion craft sets provide young trendsetters with all the tools they need to create just the look they want, so their personality and confidence can shine through
Montreal, Quebec, Canada (PRWEB) June 11, 2013
Young fashionistas with a passion for fashion can add pizzazz to their wardrobes with the latest do-it-yourself Style Me Up!® "must-haves" from Wooky Entertainment, Inc.'s award-winning collection of creativity kits. New themes in bling, color and style are set to dazzle trend-loving tweens with fashion accessory sets that range from beautiful Shambala Style Bracelets to Body Shimmer and more!
"Style Me Up! fashion kits let style-savvy girls personalize their looks with the latest accessory trends popularized on the runways and in the best-read fashion magazines," said Christina Sklavenitis, Vice President of Marketing for Wooky Entertainment. "Our extensive selection of age-appropriate fashion craft sets provide young trendsetters with all the tools they need to create just the look they want, so their personality and confidence can shine through."
For 2013, the fashion-forward craft brand provides more ways for girls to express their individuality than ever before! The new offerings for ages 8+ include:

Loop Hoop Jewelry – No need to jump through hoops to create show-stopping styles! Girls can transform rings, colored thread and other materials into one-of-a-kind stylish hoop jewelry. The kit includes 21 plastic colored base rings, glue, metal chain, two earring wires, 55 jump rings and colored thread. SRP $5.99
Shambala Style Bracelets - Joyful jewelry! Girls can make the Shambala trend their own by creating beaded bracelets that bring out their inner glow. The kit includes beautiful rhinestones, stylish beads, waxed cord, and cotton thread. SRP $9.99
Wrap A Jewel - It's a wrap! Young artists can practice the ancient art of wrapped jewelry making and create everyday or special occasion accessories by wrapping colorful cotton thread or waxed cord around a bangle, pendant or jump ring and then bling it up with bead and ribbon accents for one-of-a-kind looks. SRP $9.99
The Style Me Up! Cosmetics Creations – A shimmering collection of products that lets girls design, mix and wear their creations in the hottest cosmetics categories – nail, lip, eye, fragrance and body art. Among the colorful new offerings are:
Perfect Nail Markers – "Nail" the perfect look! Girls can create trendy, detailed nail designs with 2-in-1 polish pens in fresh new colors sure to wow their friends. The kit includes double-sided polish pens with a brush applicator on one side and fine tip pen for detailing on the other, five nail polish colors, color instructions and ideas guide. SRP $9.99
Body Shimmer – Style that shines! Now girls can mix up their favorite colors and add in a touch of shimmer to their body gel for a little extra sparkle. The set includes colored body gel base, glitter powder and more. SRP $19.99
Eye Shadow – Show-stopping shades! Girls can show off their personal style by creating beautiful eye shadow shades they'll love to wear. The kit comes complete with an eye shadow base to which they can add shimmering powder to whip up the perfect shade for any occasion, three eye shadow containers, and assorted color mixing tools. SRP $19.99
The Style Me Up: Designer Sketchbooks assortment invites girls to express themselves in style as they create their own fashions by drawing, sketching, personalizing and embellishing their designs. Each sketchbook includes color instructions, detailed stencils, sketching pages and stickers to trace, color and decorate. Among this year's new offerings are:
Riding in Style – Giddy up! This horse-themed sketchpad kit includes 28 sketch pages, four each of stencil and illustrated inspiration sheets, 100 stickers, and sample pattern pages. SRP $11.99
Puppy Love – An "a-dog-able" dog-themed drawing pad with 28 sketch pages, four each of stencil and illustrated inspiration sheets, 100 stickers, and sample pattern pages. SRP $11.99
In addition to these brand-new items is a host of products refreshed for the new year, including Oppenheim Toy Portfolio 2012 Platinum Award-winning Romantic Scarf, updated for 2013 as Fashion Knitted Scarf, featuring a knitting loom, hook and rainbow colored yarn; Creative Magazine 2012 Award-winning Hippy Chic 40-page sketchbook with four stencil sheets, five illustrated inspiration sheets and over 50 stickers; and ToyTalk Magazine 2012 Award-winning Travel in Style, a 36-page sketchbook with four silhouettes and 12 hairstyles, stencil sheets and stickers.
For more on these hot fashion kits, check out YouTube at http://youtu.be/EzPzjSHMeOQ for Style Me Up! crafts, http://youtu.be/NbfoOq1f29k for Style Me Up! Cosmetics Creations and http://youtu.be/32AlwySp-Ng for Style Me Up!: Designer Sketchbooks. Style Me Up! is on Facebook at http://www.facebook.com/pages/Style-Me-Up/85917066739
About Wooky Entertainment Inc.
Wooky Entertainment is a Montreal-based brand development company that produces and distributes high-quality, trend-right product worldwide. The company's portfolio includes six standout brands for boys and girls of all ages: Style Me Up!®, Block Crayon™, Mixy™, Mathable®, Artzooka!™, and Design Masters™. Wooky Entertainment aims for excellence in creativity and design. The company's goal is to present the latest, freshest, most fashion-forward innovations for everyone! For more information visit http://www.wookyentertainment.com.