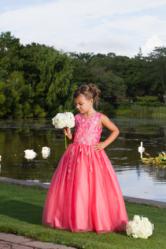 Baldwin, NY (PRWEB) June 11, 2013
Sweetie Pie Collection has finally reached its short term goal of obtaining over 1,000 Fans on Facebook. This means the Sweepstakes is coming to an end, and a winner for the free dress will be chosen and announced within the upcoming days.
The winner of the Sweetie Pie Collection Sweepstakes can chose any current or in stock discontinued dress on our line and it will be given to them for free. It can be a Flower Girl Dress, Communion Dress, Christening Dress, Baby Party Dress, First Birthday Dress, Pageant Dress, Baby Flower Girl Dress, Baptism Dress, Boys Christening Outfit, or any Special Occasion Dress. If it's children's formal wear, and Sweetie Pie offers it, it is available to the winner.
1,000 Fans is a very exciting landmark. It is expected that now, Sweetie Pie Collection will be getting more fans, at an even faster rate than ever before. Even though this sweepstakes is ending, Sweetie Pie will have a new Sweepstakes starting soon. This will keep customers and Fans engaged with the company, and give them incentive to stay up on current news and events in addition to the high quality and trend setting styles and of dresses offered. If you would like to check out the Sweetie Pie Collection Facebook Page, feel free to click on the available links. There are still a couple of days left to joint the sweepstakes. Don't miss out.